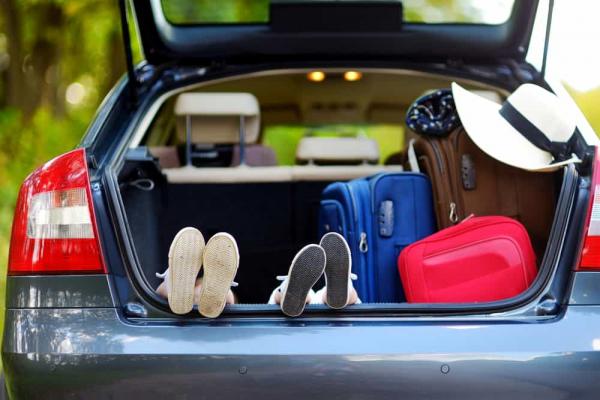 Several years ago my husband talked me into a road trip with our kids. He had some time off work, we had a family event to attend, and we wanted our kids to see the country. We packed up our car and four kids in New York and headed west.
We picked up some tips and tricks along the way that really helped make the trip enjoyable.
1. Join a travel club
Through a travel club like AAA, you are eligible for discounts at many hotels, restaurants and attractions. You will find a wealth of information in the guidebooks that are provided free of charge with your membership. You can read about interesting facts and fun stops as you approach different cities. We discovered the National Cowboy Museum in Oklahoma City. This little jewel of a stop was so enjoyable and unexpected. We planned to spend an hour, but ended up staying most of the day. I'm sure with a smart phone and some ingenuity you could find similar information on your own.
2. Pack smart
Even one suitcase for each family member is too many to haul into the hotel every night when everyone is tired. Pack one bag with all the pajamas and toothbrushes that you can grab on your way to check in. In this way, the kids can get ready for bed without having to unpack the whole car. Depending on the length of your trip, pack several bags with one or two changes of clothing for each person. That way, you are unloading a minimum number of bags at each overnight stop.
3. Pack for fun
Pack a bag with active toys to use at rest stops. Pack a Frisbee, bubbles, sidewalk chalk, a football and jump ropes. It's nice to get out and stretch your legs, but it's even more fun to have something to do. Pack a bag with all the bathing suits and some pool toys. This is a convenient way for you to know right where they are when you get to the hotel in time for a swim.
4. Entertainment bags
Pack a bag of entertaining items appropriate for each child. This will help keep items contained when not in use. They can also use these bags to keep their own snacks and any souvenirs or treasures they acquire on the trip.
5. Buy the pass
You can purchase annual passes to the National Parks in the US and many amusement park chains. If you are planning to hit some of these major destinations, an annual pass might be cheaper than paying the entrance fees at each gate.
6. Plan ahead but be flexible
Have a general idea of where you want to stop, but be flexible, so you don't miss unexpected delights. One night we found a listing in the AAA book for the Schmidt's Museum of Coca-Cola memorabilia. Being Schmidts ourselves, we thought it was worth a look. The next morning we got in the car, typed the address in the GPS and looked up to see the museum right next to the hotel.
7. Pay your kids
Pay your kids to do things in the car. We paid our kids to write in their travel journals every day. They kept a log in the back to track money earned and money spent on souvenirs. We also paid the kids every time they chose water instead of soda pop.
8. Notice your surroundings
On a long road trip, it's easy to bury your nose in a book or glue your eyes to a movie or video game. Those are helpful distractions, but don't miss out on the world outside the car. We pointed out the changes in the terrain to our kids every day. Anytime we passed into a new state or saw wildlife, we turned off the electronics for a little while to look out the window.
9. Get a taste for adventure
Traveling is a great time to get kids to try new things. Make it a point to sample the local fare when you go out to eat. Try to eat at local restaurants when possible. Fast food is convenient, but you can get that at home. Get recommendations from the hotel clerk or local folks. We ate barbecue in Texas, soul food in Memphis, and steak fingers on Route 66. We also made a rule that anyone who ordered chicken nuggets at lunch would need to order something else at dinner.
10. Establish a routine
Kids need something of which to look forward. Make plans to arrive at the hotel in time to swim. Get up and swim in the morning before you set off again. Every morning when we got in the car we cleaned out garbage from the day before, reorganized entertainment items, had a prayer, and shot a video clip about our most recent adventure.
11. Keep a sense of humor
Your adventure will go much better if you keep a sense of humor about mishaps. We drove through the east gates of Yellowstone National Park late at night. We had hotel reservations in West Yellowstone that night. Three hours later and three miles from West Yellowstone we discovered that, due to road construction, the road to West Yellowstone was closed. We had to drive three hours back around the park in the middle of the night to reach the hotel. It wasn't funny at the time, but over the next few days we could laugh about it.
Part of being an educated person is experiencing life outside your own neighborhood. If you have the desire, the money and the time, take the plunge. Take the kids and see the country. You will never regret money or time spent traveling and making memories with your family.