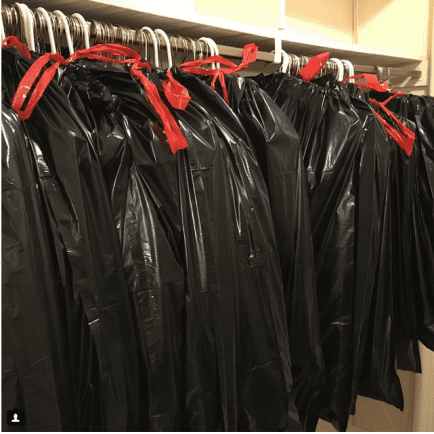 Moving is a very stressful thing. You're uprooted from the life you know and placed in a completely new environment. The process of packing everything you own can drive people insane. The worst part is when you arrive at your new place to find broken plates and missing boxes. And wondering how in the world you have so much stuff!
Here's the good news: It's really easy to prevent moving nightmares from happening. With a little extra preparation, your next move will be so much smoother. Here are 23 tips that will save you from the moving headache.
1. Wake up early
Get a head start to your day by waking up early on moving day. This way you won't feel rushed to get out of your place if you wake up later than you planned.
2. Wrap clothes on hangers in garbage bags
This is a simple way to keep the bulk of your clothes together and move them easily. Simply cut a hole at the bottom of the garbage bag, stick the tops of the hangers through, pull the bag over the clothes and tie it at the bottom.
3. Wrap books in Saran Wrap
If you have a lot of books, spare the boxes. Stack them and wrap them in Saran Wrap. This makes it so the books won't wiggle when you move and the stacks will stick together, so they won't move very easily.
4. Stack styrofoam plates between breakable plates
This will help prevent them from scratching each other or potentially breaking during the move. The styrofoam plates will soften the blow.
5. Thread necklaces through straws or empty toilet paper rolls
To prevent necklaces or bracelets from getting tangled in the move, thread long necklaces through straws or wrap them together through toilet paper rolls. This way they won't get damaged and you won't have to sit and untie them for hours.
6. Take a picture of how electronics were setup before disassembling
If you aren't very tech savvy, make sure to take a picture of your electronics and how they were assembled before disassembling them. This will make your life much easier when you set up your computer and entertainment center.
7. Label cords
Don't open a box full of cords and be completely clueless as to what goes where. Once you've taken the picture of the cord, wrap it up, tie it with tape and label the cord's use on the piece of tape.
8. Wrap dishes with clothes
In order to keep your breakable dishes and other fragile items safe, wrap them in clothes you won't need for a day or two. This way they'll be secure in transit and you won't have to spend an arm and a leg on bubble wrap.
9. Don't get locked out - use a rubber band
Going in and out of the house can get annoying with a door opening and closing each time. Wrap a rubber band around the lock so the door stays open and you don't get locked out.
10. Label boxes with colored duct tape
A better way to keep your boxes organized is to label each box with colored duct tape. If you tend to throw random items together in boxes, make a list on the outside of the box of its contents before sealing it with tape.
11. Keep a Sharpie in your pocket so you don't lose it
It's easy to misplace your Sharpie while moving, so keep an extra in your pocket. You won't waste time searching through the stacks of boxes, wondering if you accidentally packed it away.
13. Fill pots and pans or Crock-Pots with spices
An easy way to keep track of your smaller spices is to put them in a Crock-Pot or pots and pans. You'll save box space and make use of the space inside the empty crock pot and pans.
14. Put plastic wrap under lids for open bottles
In order to prevent shampoo or lotion blowouts during travel, put plastic wrap underneath the bottle caps and twist the top back on. This way the rest of your clothes will be safe from liquid explosions.
15. Use luggage as extra box space
Take advantage of every box-like thing you have, like your luggage. If you've got an empty suitcase lying around, you can load a bunch more of your stuff inside that will save you time and money.
16. Rub bar of soap over nail holes
To cover up those pesky nail holes, rub a bar of soap over each one to fill it. Your wall will look practically brand new by the time you're finished.
17. Wrap silverware holder in plastic wrap
Instead of tossing your pesky silverware into a box, keep your silverware in the holder and wrap it in plastic wrap. That way they all stay together and it's much easier to pack.
18. Put items you need in an overnight bag
For items that need to be easily accessible once you arrive at your new place, make sure to pack an extra overnight bag. Keep it where it's easy to access. This way you won't have to search through stacks of boxes for your toothbrush.
19. Don't leave empty space in boxes
The box may be heavy, but leave no empty space in your boxes. Fitting more inside of each box will save you time and space. Chances are, the kids, baby, dog and cat will take advantage of all the empty space in the boxes and make good use of them too.
20. Get more boxes from your local grocery store
If you've run out of boxes, call your local grocery store and have them set aside some boxes for you when they unpack their shipments for the day. It's completely free and you get a bunch of boxes for your move.
21. Keep scissors and tape accessible
Don't pack those scissors just yet. Make sure they're easily accessible for when you arrive at your new place so you can get to work unpacking all of those boxes.
22. Take pictures before you move in
This step is especially applicable if you're renting your place. Make sure to take pictures to accurately document the state of things before you move in. Even if you aren't renting, it's nice to have before and after photos to see how the place transforms once you start redecorating.
23. Toss what you don't need or donate it
Despite all the stress of moving, it allows you to go through all of the things you own and make decisions about whether or not you should keep it. Moving allows you to start over and begin again. So if you're still holding onto items that you haven't used in years or have never used, toss them, sell them or donate them. Remember, another person's trash is someone else's treasure.