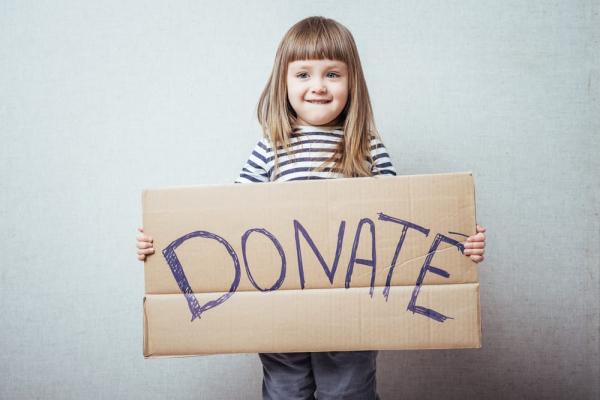 It's an unfortunate fact of life that children are not born altruistic. If we want to raise compassionate kids, we have to put in the hard work at home. However, doing family service projects with young and school-aged kids is daunting. Little kids tend to hinder just as much as they help sometimes. Before you make yourself crazy trying to teach your kids generosity, check out these small service ideas perfect for families with kids. All of these ideas are simple, uncomplicated and fun to carry out.
Drop off a small donation at a local food bank.

Send thank-you notes to local police officers.

Make a small gift of appreciation for your child's teacher.

Leave a plate of treats for your newspaper or mail carrier.

Babysit for a family friend so the mom and dad can go on a date.

Go out for ice cream and leave a $5 bill with the cashier to pay for the next person in line.

Collect and drop off recyclable materials. If you earn money, consider donating the proceeds.

Call up far away grandparents out of the blue. You might even sing them a song.

Walk the dogs and pet the cats at an animal shelter.

Write letters to deployed soldiers.

Put on a talent show at a nursing home. Even if you're not musically talented, little kids can do just about anything and look cute.

Collect used books and donate them to a homeless shelter.

Hand out a blessings bag full of non-perishable food and personal care items to a homeless individual.

Bring flowers to a widow or older single woman.

Have a yard sale and donate the proceeds.

Shovel, rake, or mow for a neighbor.

De-clutter and give unwanted items to a local thrift store.

Write thank you notes for your public library librarians.

Visit a family friend in the hospital.

Take a plate of cookies to your local firehouse.

Ding-dong-ditch and leave treats for a single mom and her kids.

Assign each child a sibling to secretly serve throughout an entire week.

Have a lemonade stand and donate the proceeds.

Record senior histories at a nursing home.

Serve at a soup kitchen.
Volunteering as a family does not require inordinate amounts of time or money. You also don't have to wait for a charity to organize a benefit for you to get involved in your community. So long as there are people on the earth, there will be opportunities to serve. You can teach your kids to identify and fulfill the needs that exist all around them.
Serving together not only benefits those you serve, but it will also bring you closer together as a family. Don't wait until your kids are grown to teach them altruistic living. They will not only be more enthusiastic when they're younger, but starting kids young on service also creates lifelong habits. Imagine if we all committed to raising selfless kids. Our kids really can make a difference in the world.