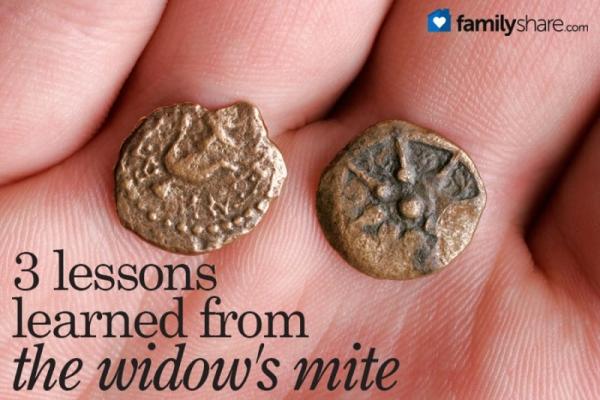 This summer, my family and I visited a local store filled with treasure gathered from ship wrecks and other amazing places. Each piece of jewelry, or coin had a story. One piece took my breath away.
It was a tiny bronze chip minted by Alexander Jannaeus, King of Judaea before Christ's birth. It was a widow's mite. Here, so tiny and so small, was the mite from the story I love in the New Testament.
The Savior was in the Temple, in the treasury, watching people pay their tithing. They would cast coins into the treasury. The wealthy would pay a lot. Then a "certain poor widow," comes and throws in two mites. The same tiny little bronze chips at which I was looking. So small they would get lost and sift to the bottom of a bag of heavier coins.
The Savior called to his disciples and told them, "...this poor widow hath cast more in, than all they which have cast into the treasury." Because they had donated only a part of their money while she had given the Lord everything she had in tithes and offerings.
I believe, as do many Christians, that all I have came from God. And so I believe that by paying my tithing back to him, I am showing my gratitude. Here, he has given me everything and only asked for a small portion back.
In a world that is difficult with record breaking amounts of foreclosures and rising prices, wouldn't we all be grateful for a miracle? That is exactly what Malachi promises us in the Old Testament. He says, "Bring ye all the tithes into the storehouse that there may be meat in mine house, and prove me now herewith, saith the Lord of hosts, if I will not open you the windows of heaven, and pour you out a blessing, that there shall not be room enough to receive it."
Malachi's promise is simple. Pay the Lord his portion or tithing and we will have more blessings that we can receive. Malachi isn't talking about the secret formula for getting rich quick, he is describing the way to find that sweet peace that comes from trusting the Lord.
When we do all we can to follow the Lord and pay tithing the Lord promises to take care of us.
David A. Bednar, past university president and professor of business, while speaking of the law of tithing explained more about Malachi's promise to open the windows of Heaven. Bednar said, "We might want and expect a larger paycheck, but the blessing that comes to us through heavenly windows may be greater capacity to change our own circumstances rather than expecting our circumstances to be changed by someone or something else."
Bednar listed many ways the Lord can bless your life when you follow the widow's example and Malachi's advice to bring all your tithes to the storehouse and prove him or test the Lord's promise.
Bednar lists the ways the Lord might bless your family:
Spiritual discernment to help you find opportunities like new jobs.

Gratitude for what you already have.

Greater capacity to act and change your own circumstances.

Better health and less medical expenses.
Bednar also said, "The imagery of the 'windows' of heaven used by Malachi is most instructive. Windows allow natural light to enter into a building. In like manner, spiritual illumination and perspective are poured out through the windows of heaven and into our lives as we honor the law of tithing."
Bednar also reminds us to remember to align our wishes for our family's financial well-being with the Lord's when he quotes from the book of Isaiah, "For my thoughts are not your thoughts, neither are your ways my ways, saith the Lord... so are my ways higher than your ways, and my thoughts than your thoughts."
In other words, trust that the Lord knows what is best. That may not be the fancy new family car you were dreaming about, but it might be a dependable vehicle and a way to get your family to church.
An understanding of the blessings of paying tithing is something best gained by experience. Try an experiment and pay a part of your income to the Lord or your church and see how you feel.

Teaching children about blessings and gratitude
Tithing is a wonderful way to teach children to trust in the Lord and remember that what they have is a gift from heaven. Give your child a piggy bank for tithing and encourage him to experience paying it and the blessings that follow.
After paying tithing consistently for over 20 years, I recently had a chance to experience the windows of heaven firsthand. We run a small business. Recently, we found ourselves waiting to be paid. Things got very tight. I asked my husband if he had paid our tithing. We pay 10 percent of our profit.
He said, "If I pay our tithing, we will have no money left." I realized I was going to have a chance to experience the widow's mite. We paid our last dollars in tithing. By noon, the next day, everyone who owed us money paid their bill. I knew they would. My wish to support my family aligned with the Lord's wishes as a righteous desire. We believed Malachi's promise.
Test Malachi's promise. Pay the Lord tithes and see what the windows of heaven have to show you.