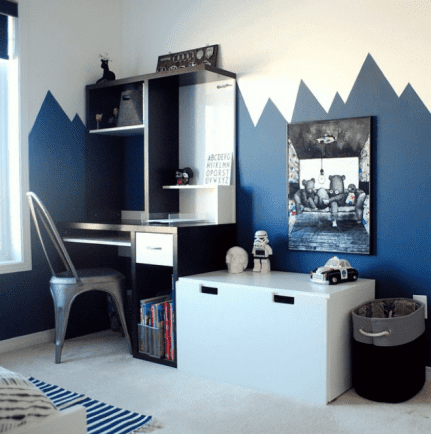 It seems like it was just yesterday you were decorating your baby's nursery. Now, they are off to new adventures and want a more grown-up space.
As your little one grows up, they'll move from needing a place to spread out and play, to a spot to study. Then onto to a place to hang out and play video games or listen to music with friends.
These changes will come fast - As a parent, you let them pick decorations for their room in elementary school, but just a few years later, it's "babyish" and they want a grown-up room. It's just three years from middle school to high school and that change happens all over again. What's a parent to do?
As a professional organizer and a mom, I can tell you the solution: Choose great basics will create a room that will easily grow with your child. Setting up zones for sleep, play and study (as well as organized storage) sets the stage for years of use. You'll simply change art, bedding and accessories for a more grown-up space.
Here are some of my favorite tips for each zone:
1. Sleep zone
A bed is, of course, one of the staples of the room. Choosing one that has enough room for your child to grow into is a great investment. You won't need to replace it when they get bigger or need more support.
Choose a solid color and add colorful sheets and throw pillows as your child grows. You can also accent this with stuffed animals for a younger child.
Professional Organizer Tip: Choose a fluffy comforter rather than a flat bedspread. It is more forgiving for when your younger child is learning to make a bed. If there are wrinkled sheets underneath, they are less likely to show.
2. Study zone
When you are choosing furniture and planning the room's layout, designate a "homework" space. A younger child might be fine doing homework at the kitchen table, but eventually that will change. As they get a little older, they will need a quiet spot to read, study and write papers.
Doing homework in bed or lying on the floor isn't the best plan. Get a desk or table that is big enough to hold a computer and paperwork. Choose an adjustable chair that can be raised or lowered as needed. Add shelves to hold books and supplies.
Kari Lloyd, editor at ApartmentGuide, adds, "One of the best pieces a parent can invest in for their child is a good desk for a study space. Chairs can easily be swapped out or adjusted as your child grows, but a good desk is something they'll use for years."
Professional Organizer Tip:When creating this zone, consider a spot with minimal distractions. Any place that's facing a TV or a window where your child can see kids at play outside is not the best option. Noise is a factor as well-avoid placing the spot too close to a hallway where family will be walking by. Look for the wall or corner that is calm, quiet and distraction free.
3. Play zone
Younger children need a space to spread out, create and use their imagination. Tweens and young teens need a spot to hang out. For the older kids, their "play zone" might include a couch, a futon or a comfy rug and throw pillows where the gang can gather to chat, munch popcorn and be teens.
An open area to play with toys as well as surface area for art projects or building with Legos are musts for younger kids. They'll also need a place to store these toys and creations. A bookshelf next to the play area is a great investment. This "good bones" piece can hold toys now and will hold sports awards, books, souvenirs and photos of friends as your child ages.
Professional Organizer Tip: A long, low bookshelf is great for a child's room. They will use the top of the shelf for play space because they can reach it, or use it to display things they have made.
4. Storage zone
The difference between adults and children is the amount and kinds of things they store in their room. For adults, it is usually just their wardrobe. For kids, it is not just clothes, but toys, sporting goods, memorabilia, clothes they will grow into, clothes they grew out of, awards and collections. In order for the room to grow with them, plan on plenty of storage.
Start with the closet. A closet organizer will create more than one hanging zone. This will give you a low bar that will let young children reach their own clothing and gives teens the extra hanging room they need.
Choose furniture that offers storage- pick a nightstand with drawers rather than just a table, for example. Add cubbies to bookcases so there is a designated spot for toys with lots of pieces.
Professional Organizer Tip: Go vertical with storage by adding decorative coat hooks to the wall. Young children can hang up costumes, masks, costume jewelry and toy swords for imaginative play. For teens, the hooks become a great spot for backpacks, umbrellas, purses, scarves and sports gear.
With great basic furniture, it's easy to update a room as your child grows. Rearrange for a new look, slip on new bedding, take down old art and add some fun, trendy posters. Get rid of outgrown toys and replace them with decor and accessories just right for their age.