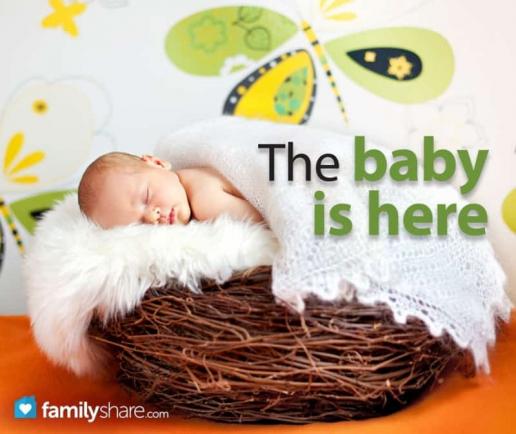 The baby is here! You want the world to know, but you have so many options to choose from. Do you use a megaphone? Send an email with an attached photo? No! What you want is to send a baby announcement, loud and proud, to your closest friends and relatives. Don't think of it as bragging.
Here are a few creative ideas for baby announcements that you can use to make the coolest declaration of your child's birth.
1. Sweet sleeping baby photos
Who isn't a sucker for those adorable pictures of sleeping babies with little hats or slippers on their feet? It's easy enough for you to snap a few yourself in your home. Many photographers use baskets and carefully position the sleeping baby's arms and hands. If this feels too posed for you, get a good shot of you, your spouse, and the baby all together. A picture is worth a thousand words.
2. Include your other children
If you have another child, have him or her hold a sign or wear a shirt that says Big Brother or Big Sister. This is a cute way to include the whole family.
3. Number them off
Have your spouse hold a number one sign, you hold a number two, and paint, write, or hold another number three sign on your baby.
All you have to do is find one that speaks for itself, snap a photo, and send it off with a short description about your baby. The cutest baby announcement I have seen is a little boy in a onesie that read "Now that I'm here, the party can start!" The best part was the baby's smiling face and the party blower he was holding.
5. Anything with the feet
Hold your baby's feet, have you and your spouse all line up feet with the baby, put your wedding rings around the baby's toes, and anything else you can think of. Feet are one of the cutest parts of a baby, so why not show them off?
One very cute announcement I've seen recently is a postcard photo of the baby with this simple phrase: "Hi, I'm Oliver". It really felt like the baby was speaking to the multitudes, as corny as that sounds. I felt like I really knew Oliver and he became my friend, in a sense.
Whatever you choose to do, make sure you include all the tiny details like height, weight and delivery time and date. This way you won't have to answer the same questions over and over. Baby cards are a modern way of introducing your child to the world and letting others see the beauty you helped create.