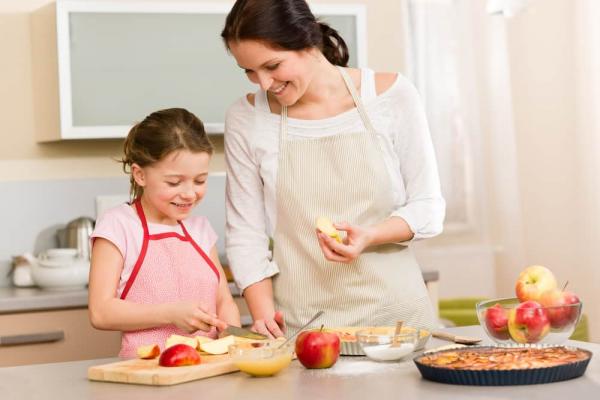 Feeding your family healthful foods at mealtimes is important, as is quality time spent around the dinner table. It's hard when children complain about the food or refuse to eat it. One solution to these common problems is to involve children in meal planning. It's a life skill best learned young.
Start by discussing nutrition and food groups
A basic balanced meal should have protein, carbohydrate, and fat. Give examples of each. For example, protein sources include meat, fish, nuts, eggs, beans and legumes. Lunch and dinner will ideally include a fruit and a vegetable, or two vegetables. Healthy meals are low in sodium and saturated fat, and they feature whole grains over refined.
Next, make a list of your family's favorite meals
Let each child contribute to the list. Try not to veto any foods. If your six-year-old says hot dogs, write it down. Encourage positive comments about others' suggestions. You might want to divide the list into main dishes, side dishes, vegetables, breads, soups, etc., or you can do that at a later time. It's nice to have a master list to refer to and add to when you are planning what to cook.
Plan meals weekly, bi-weekly or monthly
Using your master list and favorite family cookbooks or new recipes you'd like to try, write in meals on a calendar. Let each child choose a meal they would like. Help them make it a balanced, nutritional choice. Take the hot dogs, for example. If you choose all beef hot dogs and serve them on a whole wheat bun with sweet potato fries and a salad, you have a healthful meal. Write in their selections on the calendar. Make a shopping list as you calendar your meals. Consider your family's other activities when assigning meals to certain days. Some dishes take longer to prep.
After the meals are planned, you can have children help with the execution of the meal
Grocery shopping, meal prep, cooking and clean up are all jobs that need to be done. Including your children will help them take ownership in the process of feeding a family. They will also develop helpful skills like chopping vegetables, reading recipes, cooking and doing dishes. If a child wants to add a special touch to a meal, let them. My daughter loves to decorate the table, folding the napkins in a special way and adding in a drink like sparkling fruit juice on occasion.
As you share dinner times together, children will enjoy eating the meals they chose
They might also learn to eat and enjoy new foods. Encourage all the family to compliment others on their selection and their cooking. My family ends up discussing food and planning for future meals at the dinner table quite often.
If you're stuck in a dinner rut, as many families are from time to time, including your children in your meal planning can turn things around. Give it a try!