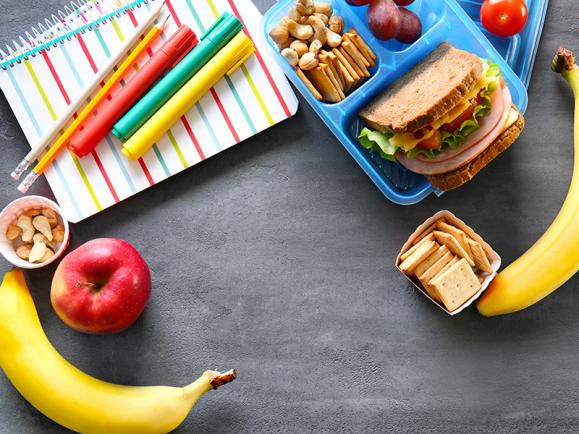 It can be hard to make time to introduce new foods to your picky eater. What's even harder is trying to make sure  your child receives a well balanced meal when the only thing they will eat are the dinosaur shaped chicken nuggets and the pink colored applesauce. This leads to constant repetition of the same meals and once you've had enough  you realize it's time to start re-thinking your game plan to creating lunch options for your very particular child.
Dealing with a picky eater can be frustrating, but sometimes all it takes is planning, creativity, and help from the picky eater, to make lunch a painless process. While every child is unique when it comes to the things they will and won't eat, there are some common themes that will help create lunches they will like. Some of those common themes include textures, smells, and taste. Here are five super easy lunch ideas to try with your picky eater.
Turkey and Cheese Tortilla Wraps
Take sliced turkey, sharp cheddar cheese, and green leaf lettuce and combine on top of a whole wheat tortilla. Then roll the tortilla up and cut into slices. Feel free to substitute the turkey with lunch meat of your choice, and you can use mayo or a little cream cheese to add some flavor to your wraps. These tortilla wraps take less than 5 minutes to make and are completely mess-free.
Breakfast For Lunch
Does your picky eater show favoritism towards breakfast food? Well, make their favorite breakfast meal and call it brunch! There's absolutely nothing wrong with preparing breakfast for your child's lunch. An easy way to do this would be to cut up your child's preference, whether that be pancakes or waffles into sticks. Provide them with a small cup of syrup on the side, and you've instantly created a quick lunch that they will love. Don't be so concerned with the fact that its breakfast, the most important thing is their tummies are being filled up, and they're ready to take on the rest of their day.
Fruit and Cheese Kabobs
With just five ingredients and minimal prep time, this summertime favorite makes for a simple and light school lunch. You will need green seedless grapes, small strawberries, and reduced-fat Colby-Jack Cheese. Start by cutting each cheese cube crosswise, then alternate on skewers with grapes and strawberries. If the use of skewers presents a danger for your child, Amazon has a great, kid-friendly option for plastic skewers. An added bonus for this meal would be creating a sweet dipping sauce by drizzling honey over some low-fat vanilla yogurt to serve with the kabobs.
Bite-Sized Taco Salad
For this recipe, you will need two cans of Hormel Chili with beans, avocado, tomatoes, shredded cheese, and Athens Mini Fillo Shells. Start by cooking your Hormel Chili with Beans on the stovetop until they are thoroughly heated. Then, bake your Fillo shells for about 4 minutes in the oven at 350 degrees. Once the shells are done, remove them from the oven and start filling them with teaspoons of the Hormel Chili with Beans. Lastly, combine your vegetables and shredded cheese on top to finish off your bite-sized tacos. What's even greater about this meal option is you can refrigerate and use the taco bites for multiple lunches throughout of the week. They also make for a filling afternoon snack.
Grilled Cheese Sticks
Now, who doesn't love a nice, warm, gooey, crunchy, grilled cheese sandwich? The thought of one right now is mouth-watering. Whipping up this quick lunch meal is perfect for any busy parent and is simple enough to please even the pickiest of eaters. Another great thing about a grilled cheese sandwich is that when it's made with whole wheat or whole grain bread and real cheese, you can ensure your child is getting proper nutrients like calcium and high fiber carbohydrates.
Grab two slices of your child's favorite bread, two slices of cheddar cheese, or any other sliced melting cheese, and a little butter. Use a grill pan, cast iron, or non-stick skillet on medium heat and spread an even layer of butter on one side of your bread. When your pan is hot, place the bread buttered side down, add your cheese on the bread, and then top with the other slice of bread. Then take a spatula or a flat weighted lid to press down on the sandwich. Once one side turns golden brown, flip it over and repeat to make the cheese has melted. Remove the sandwich from the skillet and let it cool before cutting it into rectangle pieces.
To maximize your efforts in providing the best lunches for your picky eater, sit down with them to create a list of all the things they do like. Focus on the textures your child likes and use that to your advantage when planning. When you focus on what they will eat versus what they won't, it takes the pressure off both you and your child when it comes to planning lunch. Try to always incorporate at least one food they like in their lunch and don't expect them to always eat everything you make. As parents, it's natural to want to make sure your child's belly is full after every meal, but the reality is most meals aren't going to happen like that, especially with a picky eater.
Never stop encouraging your child to try new foods and an easy way to do this is by getting them excited about lunchtime. It might also be helpful to ask them what their friends are eating at lunch to see if there is an opportunity to try new foods. Remember, when dealing with a picky eater, the simpler the meal, the better. It's completely normal for children to go through phases where they only want certain foods, but with the right attitude and patience you can help bring variety to your child's lunches without throwing them out of their comfort zones.