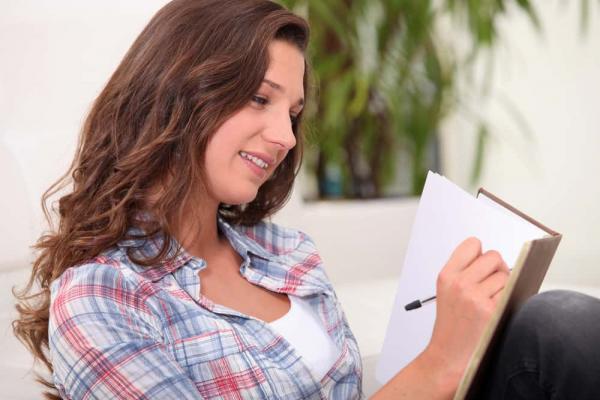 Editor's note: This article was originally published on Hilary Erickson's blog, Pulling Curls. It has been republished here with permission.
Have you ever thought of journaling for your kids? Do you think one day they'll treasure their journals? What are some reasons you would journal for your kids?
I am a big journaler. I have this blog, I have a personal journal and I have one for each of my three kids, and once a month I write in it. It has been crazy beneficial. Here are five reasons to journal for your kids:
1. It gives you history
I wrote down how often the kids were eating/sleeping for that first year. It was SO helpful with each subsequent child. I often wonder "when did they give up that second nap" and I could just go back to the journals. There isn't a whole lot to write about when your babies are little - and while it seems mundane, this can be really helpful.
2. It gives you a place to vent
I am not sure if/when the kids will get to look at their own journals. They are critical of them. They say how HARD it is to be their mom. It talks about their personal flaws in a VERY REAL way. I don't sugar-coat or hold back when I write in them.
3. It gives you a place to praise
I don't want my kids thinking they are the smartest human to ever touch the earth - but in their journals I can marvel about how truly amazing they are, and muse about how I might have had a hand in it. Sometimes it reminds me of things that really are WONDERFUL about them. There's an awful lot.
4. It gives you place to prioritize
When I'm journaling for kids, I can somehow pinpoint what I really want to help them change. One is too sneaky, one needs to learn how to stay on task, and one needs to learn to take responsibility for their self. It's about 20 minutes of JUST thinking about them. I don't know about you, but I don't often get that without the whirlwind of parenthood around me.
5. You are DOING this
Just when you think you're the largest failure that parenthood has ever seen, you can look back and realize you are making a difference in these little people that you are spending SO much time on! It's good to see them evolve and change, and maybe you are making a difference on #4.
I journal in each kid's once a month. I beg Drew to write something in the month of their birthday. I know they get theirs someday. I hope they treasure it, or maybe it will help them realize we ALL struggle. Even raising perfect beings like themselves.