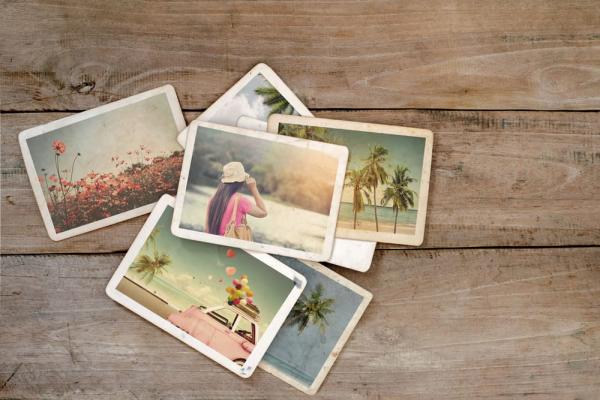 Family vacations aren't always relaxing, but they are filled with adventure, wonder and moments worth remembering. When you're feeling stuck in day-to-day living, it's nice to look back on family vacations. From camping in the forest to playing on the beach, exploring a big city or just visiting grandma's house, the time you spend in play as a family on vacation is precious time. Here are five ways to make sure the perfect vacation doesn't get forgotten.
1. Frame a photo
Choose one photo from each trip you take to add to a gallery wall of vacation photos in your house. You might want to choose a photo with a clear landmark or identifying feature so you remember where you were, like in front of the Golden Gate Bridge if you traveled to San Francisco. If you can't choose just one photo, buy a frame that allows you to make a collage of photos. Soon your wall will be a place everyone in the family gathers to reminisce.
2. Gather a natural momento
As you vacation, look for objects from nature to bring home with you. Pinecones, driftwood, bottles of sand, sea glass and rocks are all examples of natural articles that make good momentos. Then, make a display for your objects and label them with the places you found them. Make sure it's legal to collect your artifacts. Some forests and beaches have strict rules for collecting.
3. Get a perfect souvenir
Your kids probably try to drag you into cheesy souvenir shops at tourist destinations as you travel, but you don't have to get a t-shirt or keychain from every place you visit. If you have a collection, like Christmas tree ornaments, magnets or pencils, it's easy to add one every time you go somewhere. Less obvious souvenirs are something handmade by a local artisan, a painting or print of the area you visited, or a household object you need. The perfect souvenir will be useful and memorable.
4. Make a photo book
Making photo books is a great way to remember trips. Kids love to look through them and see where they were and what they did. Apps like Chatbooks, available for iPhone, allow you to make a quick and easy photo book right on your phone. You can choose your cover photo, add captions and have your photo book on its way before you've even unpacked. Chatbooks hold between 30 and 300 photos. If you vacation with others, you can all add and share photos to make books.
5. Make a movie
Even if you're not a video-editing pro, you can take several short videos throughout your vacation and then enjoy watching them as a family. Choose videos of interesting things, like a spectacular view or an activity like zip-lining. Try to get videos of every member of the family. It's fun to interview family members too. Kids love hearing their answers and seeing themselves in videos. Then, if you're feeling savvy, try to edit your videos, add transitions and music, and watch the finished project. If you're not sure how to do all that, have your kids help.
Long after the vacation's over, these simple reminders will take you back to the time you spent with your family.
Download the free Chatbooks iPhone app and get your first book today. Preserving your family vacation photos couldn't be easier.