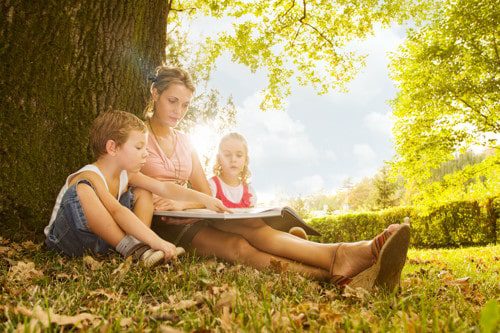 All parents know reading is important. It's one of the core parts of our children's education, and children who read at home do better in school. However, for many parents, the idea of reading to their children every day or teaching literacy seems time-consuming and can even feel like a chore. Reading doesn't have to be time consuming or boring.
Plus, literacy doesn't just mean books. There are many ways to get even very young children interested in literature. These activities not only strengthen those skills they'll need once they get into Kindergarten, but they'll also strengthen the bond between children and their caregivers.
Storytelling is one of the fundamental ways we communicate with each other, and it's a gift your children will cherish for years to come. Read on for 5 tips on how to introduce your kids to the wonderful world of literature:
1. Start at the local library
Libraries are more than just places to check-out books. Of course, you can check-out a book, or let your children pick out their own, but where libraries really pay off is in programming. Librarians are a wealth of information and can provide recommendations through booklists or personalized recommendations at the reference desk. For even younger children, many libraries have story time, puppet shows, and other interactive events where children can hear and see stories.
2. Don't stop at print material
For some children, reading words can be difficult. This is true for children with autism, dyslexia, or any other learning disability that makes it hard to process written information. Many of these children become discouraged and turned off to reading. Look to audiobooks, ebooks, or even graphic novels to get even reluctant readers engaged.
Audiobooks often have professional narrators who really bring a story to life. Ebooks, such as the ones found on the Reading Rainbow app, can be read to children as well, allowing them to follow along with the words. Graphic novels show a story in pictures with a few words or dialogue tags. Some parents and even teachers think these types of books don't count as reading, but we think they absolutely do. It's a way to launch reluctant readers into reading and comprehending stories, and if it's what your child wants to read, definitely encourage it.
3. Read to your children, even if they can read by themselves
This isn't a groundbreaking concept, but it requires some effort. The best way to introduce children to literature is to read and discuss books with them. Starting with picture books, try reading a few minutes before bed. When children are older and reading on their own, use this time to read some of your favorites aloud to them.
My dad read us books such as Huckleberry Finn, A Wrinkle in Time, The Hobbit, Treasure Island, and many others. These books were advanced for school-aged children, but having an adult narrator made them accessible for even young readers.
4. Model good reading behavior
Make reading a priority in your own life. A recent Pew study found that half of adults read fewer than five books in the last year. Again, the same rules about format apply here. Whether you are reading a book in print, on a Kindle or iPad, or listening to an audiobook, you are showing your children that reading can be fun for adults as well. While you're reading, talk to your kids about what they too are reading.
5. Let your kids pick their reading material
It's fine to suggest books to your children, but part of reading and literature is exploring what works for each individual reader. It can be tempting to screen reading material for content and to shield younger readers from mature themes. However, young readers are smart and know how to put down a book they don't like or don't feel comfortable with.
Encourage your children to talk to you about what they are reading and to trust their instincts with a book. But, allowing children to read material that is difficult allows them to get the most out of their books and to become more empathetic, compassionate, and intelligent individuals.
There's no magic bullet for reading with children. But the stories they read about in childhood will be some of the most important lessons of their lives.