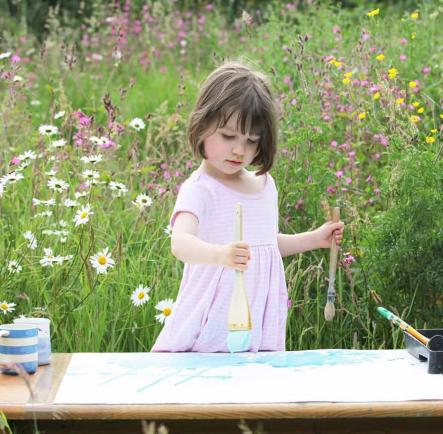 A 5-year-old autistic girl in England is sharing her extraordinary gift of watercolor painting with the world. Iris Grace, who was diagnosed with autism at age 2, is best able to express herself through movement and art, according to irisgracepainting.com.
"We wanted to share her art to raise awareness of her condition and inspire other families in similar situations to ours," says her website. Private art collectors and galleries in Europe, North and South America, and Asia are purchasing her work, which they liken to 19th century impressionist Claude Monet.
Autism is a neurological disorder, and is characterized by difficulties in social interaction and using language. Iris' mother, Arabella Carter-Johnson, says on the website Bored Panda, "Her art has opened up our eyes to the possibilities in her life and of others on the spectrum - follow their 'spark' and wonderful things can happen. I am a great believer in giving as many opportunities to children as you can."
Art therapy uses the creative medium of art to help autistic children express themselves. Autistic kids tend to respond best to concrete, visual and hands-on therapies. Art therapy is "based on the belief that the creative process involved in artistic self-expression helps people to resolve conflicts and problems, develop interpersonal skills, manage behavior, reduce stress, increase self-esteem and self-awareness, and achieve insight," according to the American Art Therapy Association (AATA).
Used as a treatment for not only autism but also other types of emotional and psychological difficulties, art therapy can "reconcile emotional conflicts, foster self-awareness, manage behavior and addictions, develop social skills, improve reality orientation, reduce anxiety, and increase self-esteem. A goal in art therapy is to improve or restore a client's functioning and his or her sense of personal well-being," says the AATA.
Art therapy can be an excellent way to promote expression, as it can be cooperative or individual, and structured or spontaneous.
Iris' mother says, "I can see so much of what fascinates her in her art, I believe she can see things in more detail, or notices things in more detail. She has always been interested in water and movement, nature and there is so much of that in her paintings."
Iris "beams with excitement and joy" when they get out the paints, says Carter-Johnson. She says that Iris communicates, plays and sleeps much better now that she paints. She has only recently started talking. "We still have a long way to go with her social skills and speech, but we are having many more 'good days,'" Carter-Johnson says on her website.
In addition to art therapy, Iris' family has seen the remarkable benefits of animal therapy after adopting their cat, Thula. Now inseparable, Iris incorporates Thula into her paintings as the cat sits and watches her paint. They also play hide-and-seek, travel and go for walks together, according tothe (UK) Independent.
To see Iris' work, visit irisgracepainting.com or boredpanda.com.