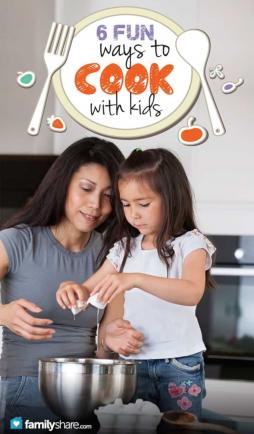 For Mother's day, my friend's children wanted to make dinner for her. As she sat back and let them work, they ended up setting off the smoke detector three times. Though it amused her to see them in action (don't worry they are 14 and 11), she realized that she needed to start teaching them how to cook.
Teaching children to cook does not have to be difficult. In fact, it should be fun, simple, and enjoyable. Children naturally enjoy being in the kitchen. Mainly, because it involves food. In a way, cooking is part mad science and magic: You combine ingredients in a certain way, add heat or cold, and voila! You have created something new.
1. Start simple and age-appropriate
Make sure that the recipes you use are appropriate for the age. You wouldn't give a beginning reader Moby Dick as their first book to read. It would only frustrate. The same goes for cooking. Also, be sure the tasks for your child are age-appropriate. A young child can handle mixing, kneading or peeling with a peeler, but probably should not be given a knife to do slicing or dicing.
2. Step back
Once you have given the instruction on a task, let them do it. Don't hover or do it for them. If they can read, let them read the recipe, find the ingredients, then follow the directions. You should be there for guidance. As they become more confident, it will be fulfilling to see them feel comfortable in the kitchen. Our 14-year-old son recently asked if he could please make dinner completely by himself. With a few instructions, he has made sausage, onions and peppers over rice and even got up early one morning to make himself pancakes from scratch.
3. Find age-appropriate cookbooks
Using cookbooks that are geared towards children benefit everyone. The recipes are simple and easier to follow. Usually they have simple cooking instructions and advice for young cooks. Often you can find ones with specific themes that make cooking more fun. My oldest child loved to find recipes in the American Girl cookbooks. We also have a Disney cookbook that was mine when I was a child. My children love picking recipes out of it. Go to the library and find one that will interest your children.
4. Let them plan a meal
By letting your children plan an entire meal, they can learn about nutrition and what constitutes a balanced meal. The United States Department of Agriculture recently created "My Plate", a simple graphic that demonstrates what should be part of a balanced meal. You can find more information at this link: http://kidshealth.org/parent/nutritioncenter/healthyeating/myplate.html. We always tell our children that the more colorful their plate, the healthier it is. However, this backfired when they suggested that Skittles would make a nutritious meal since they have all the colors of the rainbow.
By assigning each child a day of the week when they are the "chef," you give them the opportunity to plan and prepare a meal. This also helps you come up with meal ideas.
5. Introduce new foods
When a child helps prepare and cook an item, they are more willing to try it. Let them find a recipe which includes something new in it, or take them to the grocery store and let them explore the produce section. Have them select a fruit or vegetable they have never had before and incorporate it into their meal.
6. Make it fun!
My children always loved to wear an apron that was just their size. Purchase some plain ones and fabric paint, then let them decorate their own. An inexpensive chef's hat can also make the chef for the night feel special.
If the meal they are preparing is an international dish, have them learn about the origins of the dish, then share fun facts at the meal.
When your children are older, create your own family Iron Chef competition and put their skills to the test.
Following these easy steps your children will learn to love to cook. My oldest daughter and a friend loved to make cookies each Sunday night. Her friend went home one night and told her mom, "Mom, let's make cookies like they do at the Carr's. Not from the refrigerated tube, but with all the ingredients." She had learned to love cooking.
This article was originally published on FamilyShare.com. Check out these other related articles: Let your kids help plan dinner, Cooking up confidence: Give your kids fun memories and mad cooking skills [VIDEO] and 10 tips for teaching your kids how to cook.