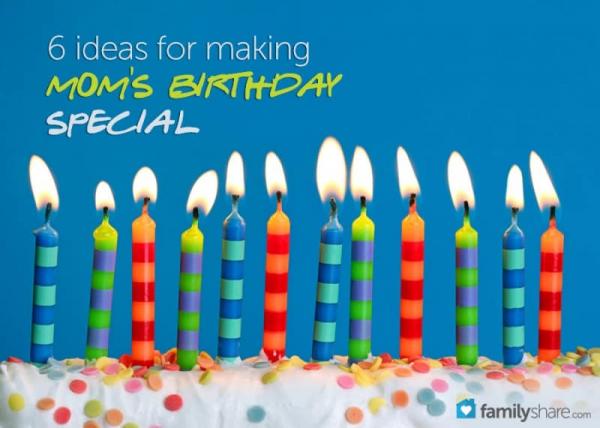 It only makes sense to celebrate the birth of the woman who birthed you. But how can you make Mom's special day truly special? Simple acknowledgement can go a long way, whether long-distance, in person or with a special token of your love for your mother.
Make a phone call
Have you ever spent a lot of time and energy trying to figure out what to do for your mom, only to come up with nothing and forget to call? Don't let that happen this year. A simple acknowledgement of the day goes a long way, especially if you're too far to visit with her in person.
Video chat
The Internet has opened up all kinds of doors, so use it to open up your home to Mom. This is especially welcome if you have children, because then your mother can interact with her grandbabies more fully than a phone call will allow.
Create a tradition
When I was in college, I sent my mom flowers every year. The bouquets always had something purple (her favorite) and included a sweet little note. You don't necessarily have to send flowers, but offering the same loving gesture every year gives a sense of continuity. Just make sure it's something your mom will actually love, otherwise she may be thinking, "Not again!"
Give a gift
Picture your mom enjoying herself on a normal day. What is she doing? These are her interests, and generally a great place to start for giving a gift she will enjoy. My mom, for example, might be sewing, going out to a movie or listening to country music on the way to work. Some lovely fabric, movie tickets, or a new CD would make excellent gifts for my mommy. If you're feeling daring, you could also think about the things that your mom has given you that you didn't really like. These might be things that she wishes someone had given her! That could be a particular style of jewelry, a genre of book or some kitchen gadget. Just make sure she hasn't already gotten herself one, since she likes it so much.
Visit
If your mom hasn't seen you in a little while, a visit for her birthday could be just the thing. Seeing you every day was once a normal part of your mom's life; she probably misses that. Make her birthday special without disrupting her routine by participating in her normal, day-to-day tasks. If she's going to spend some time on the computer, grab your laptop and sit by her. If she's making dinner, offer to cut up the vegetables. Your proximity gives many opportunities for conversation and laughter, two of Mom's favorite things.
Share good news
Have you gotten a promotion? Are you pregnant? Did you finally finish reading the book that your mom recommended? You might consider saving the happy news until Mom's birthday. That way, she can go through her day thinking about the cheerful happenings in your life, which will always make her life better.
While every day is a great day to show your mother some love, it's paramount on her birthday. So pick up the phone, pick up a gift or pick up a plane ticket and give Mom a pick-me-up.