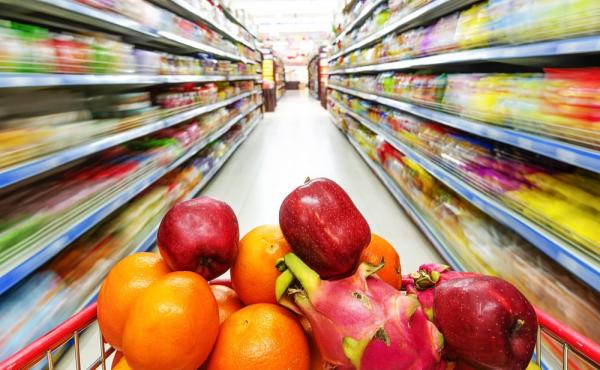 Editor's note: This article was originally published on Charlee Flaminio's blog, Humble in a Heartbeat. It has been modified and republished here with permission.
Setting a grocery budget amount for your family can be challenging with food costs on the rise and diet restrictions becoming more and more commonplace. I cannot emphasize enough how important it is to look at your own family's unique situation and never compare your budget to others.
Our first tight grocery budget
When we first got married, we lived in a small college town and I was attending school while my husband was working. We made less than $1,500 per month, and I was absorbed in sticking to our $200 grocery budget every month. During the nine months we lived there, we bought treats a handful of times, and I rarely made sides to go with our dinner. I don't even remember eating snacks. Basically, we ate cereal and milk for breakfast, sandwiches for lunch, and boring and unhealthy dinners that didn't really fill us up. My poor husband was probably starving!
The reason why I stuck to that budget so strictly was not just because of our income. It was also because I read somewhere that you should spend $100 per person on groceries each month. I did not even consider that maybe whoever wrote that had their own garden or used coupons.
Less money means less food?
Recently, my husband changed jobs and our income became slimmer than ever. I started to rethink what we were eating and if we should be eating rice and beans instead. Most people, after all, tend to spend less on food when they make less money, so we should follow the same route, right?
After thinking more about it, I realized that no matter what your income is you should be able to eat well. If you aren't eating well, that means more sickness and more trips to the doctor's office. I'd rather pay more for good food than more for healthcare and medicine.
You can't compare grocery budgets
I often wonder why people are comparing grocery budgets when every family is completely different. Some families have two people while others have 10. In the same breath, some families have family members with special diet considerations, like gluten-free, while others get take-out four times a week and eat convenience foods (cans, freezer meals, etc.) the rest of the time. Comparing grocery budgets just doesn't make sense.
6 steps to determining your family's unique grocery budget
When you are coming up with your own food budget for your family, you should take the following steps. They will help you be more realistic, realize your priorities, and understand why your budget will be so different from any other family's. All of these factors will make a big impact on how much you spend every month.
1. Evaluate your family's situation
You will definitely need to evaluate your family's current situation before you can come up with a budget. Take into account the following:
How many people are in your family?

How old are your kids?

What is your income?

Where do you live?

What is your working situation? (commute, stay home, etc.)

Do you travel for work?

Are any of your kids in daycare, preschool, or school?
Where you live often has the biggest impact on how much you can realistically spend each month. Also, if you have three teenage boys, you might just have to live with the fact that your grocery budget will be more than you were once used to!
Once you evaluate all these factors, you will get a better idea of the ballpark figure for your budget.
2. Know your family's habits
Habits can make or break a grocery budget. Here are some habits that will play into your own budget:
How often do you eat (i.e. breakfast, lunch, snack, and dinner)?

How much do you eat? Do you use portion control or let everyone have the amount they want?

What does your family like to eat for meals and snacks?

What do you do with leftovers?

Do you cook all your meals, some of them, or eat out a lot?

Do you make some food from scratch (such as bread, salad dressing, and chicken broth)?

Do you take lunch to work or go out?

Does anyone in your family have diet restrictions (vegan, gluten-free, etc.)?

Are you a real food family or do you like pre-packaged foods that are highly convenient?

Is meat or produce the dominant food on your plates?

Do you buy produce in season or just whatever the recipe calls for?

How often do you eat dessert or make treats?

Do you shop grocery store sales?

Where do you shop most of the time?

Do you have a garden that you can rely on for part of the year?
Some habits will increase your budget and others will actually lower it. You can obviously change certain habits if you truly want to spend less on food.
3. Consider special circumstances
Your budget will not be consistent every month. Some months you will likely spend more than others due to special circumstances. Consider the special circumstances below when setting your monthly budget.
If you have a baby, you might need to buy formula and/or make or buy baby food

When a family member is sick, you might need to buy foods that can help them get better

The season can impact your grocery budget if you buy in or out of season

Holidays and birthdays often mean you have to buy more food

Potlucks and family/friend gatherings can lower or drive up your grocery bill

Trips and vacations also mean more or less money should be factored into your grocery budget
4. Add in extras
Grocery shopping isn't just about what you are going to eat right now. Sometimes you have to replace items in your pantry or make a meal for an ill friend. These kinds of costs can make your budget fluctuate for better or worse.
Do you need to replace any pantry staples, such as Mayo, salt, oil, or spices?

Do you need to get items to keep on hand so you can make a meal on the fly if necessary?

Are other goods (like paper towels, diapers, and plastic cups) part of your grocery budget or in a different category?

Do you buy food on sale to save for the future?

How often do you go out for a date or as a family?

Do you need to prepare a meal for someone who just had a baby?

Will you be donating food to the food bank each month?
If you buy most of your pantry staples and non-perishable items when they are on sale, you might find even more wiggle room in your budget most months.
5. Decide how much time you want to spend
You can't just put a number on paper and expect it to work. You have to put time and effort into the process (meal planning, cooking, shopping, etc.) if you want to stay within your budget. These questions will help you decide what amount of time and effort you want to put in each month.
Are you willing to coupon?

Do you use a meal planning service to eliminate the meal planning process?

How often do you go grocery shopping? Three times a week, twice a month, once a month?

Are you cooking from scratch or opening cans and throwing frozen pizza in the oven?

Do you need to make freezer meals once a month for nights when you are too busy to cook?
I tend to spend a significant amount of time cooking, but I would rather cook from scratch than spend my hard earned cash on takeout or pizza. If you know yourself and your schedule, you might come to the conclusion that you just can't cook as much as you would like. In this case, you might have to spend more money on groceries each month to buy more convenience foods.
6. Put your budget to the test
Once you have figured out your ideal grocery budget amount, see if you can keep to it for a few months. If it seems like you are always going over, you probably should adjust it.
Can you realistically stick to a low grocery budget, or do your family's situation, circumstances, and habits make that impossible?

What is your ideal grocery budget, after you have taken all the above steps?
You can set your grocery budget for the entire year, and that way you have more freedom to put more toward some months and less toward others.
For example, a yearly grocery budget of $4,800 can either be $400 a month or it could look something like this:
January - $375

February - $350 (less days)

March - $370

April - $415 (a birthday)

May - $375

June - $375

July - $425 (Independence Day and a birthday)

August - $375

September - $375

October - $375

November - $515 (Thanksgiving and a birthday)

December - $475 (Christmas)
By writing out exact amounts for each month, you will find it easier to keep your yearly budget. This way you will know which months you need to cut back and which months you can spend a little more.
As you can see, there are so many factors going into your grocery budget that you just can't compare your grocery budget to anyone else's. Make your grocery budget work for you and your family, and you won't feel guilty if you have to adjust it.