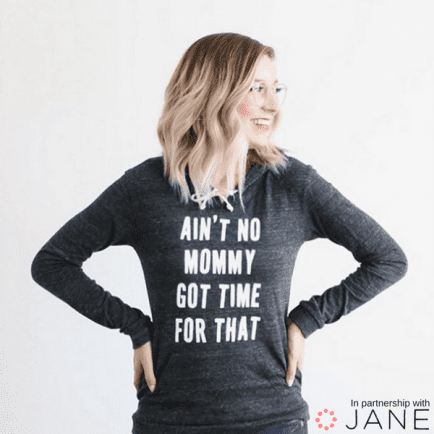 When your days are filled with diaper changes, naptime, carpool pickup and endless loads of laundry, style usually ends up on the back burner. Lucky for you, we have 9 simple ways to look cute as a stay-at-home mom.
1. Master the mom bun
Let's be honest, taking a shower - let alone washing your hair - usually ends up at the bottom of a mom's to do list. Find a quick and easy hairstyle that works for you. When your mane is tamed, it's a lot easier to look and feel cute. Check out these 20 hairstyles under 20 min for some hair inspo.
2. Create a simple makeup routine
The power of makeup is amazing. Find your pain points and focus on those when creating a makeup routine. Find something easy like a little brush of powder or a quick swipe of mascara. Whatever it may be, the key is keeping it quick. Try sticking with five steps that can be completed in five minutes.
3. Jewel up your ears
Make a statement with some simple earrings. This effortless step adds a punch of style in an instant. Adding earrings to your look is the easiest way to dress up a casual outfit.
4. Embrace the leggings
If you haven't already jumped on board the legging train, grab a first class ticket pronto. Leggings are the most versatile wardrobe piece you'll ever have in your closet. They can easily be paired with an oversized tee and some cute tennies for a look that doesn't sacrifice comfort. Check out Jane.com for adorable leggings at affordable prices.
5. Never underestimate the power of jeans
There is something so classy about a pair of jeans with a tee. It's simple, yet stylish and the perfect outfit for any mom duty you may need to tackle.
6. Say yes to a dress
A casual dress is always the right answer when it comes to style. Try out a tunic dress or a T-shirt dress for a polished look that still allows you the freedom to move.
7. Color your lips
Don't be afraid of a little lipstick. Color on your lips is a simple way to add some style to your look and some life to your face. Dab on your favorite color and then apply chapstick. This will give you a natural look perfect for a trip to the grocery store.
8. Shoes are the answer
A cute pair of shoes can turn a bland outfit upside down in a flash. When changing out of yesterday's yoga pants isn't an option, throw on a pair of converses and a baseball cap to look as cute as a button.
9. Shop online
As a stay-at home mom, keeping up with the latest trend isn't always easy. (Forget about going to the mall to shop around.) That's why websites like Jane.com is the perfect shopping place for you! You can stay up to date on trends and shop virtually anywhere. With hundreds of deals a day (seriously, you can find boutique items at 70 percent off) looking cute as a stay-at-home mom will be the easiest task of the day.