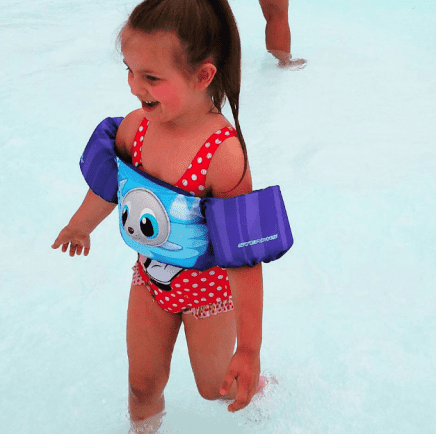 A day at the water park might seem like a carefree day of fun, but for a mother of a child with autism, it's unpredictable.
Stephanie Skaggs is a mother to a five-year-old girl named Baylee, who has autism and is mostly nonverbal. Because of this, many people don't know that she's different from other children unless she has an unexpected outburst.
When Skaggs took her daughter to the Kentucky Kingdom water park, she spent quite some time helping her daughter establish a routine.
"We were practicing very hard on waiting in line, and she was doing well for the most part," Skaggs said in her Facebook post. "We had a routine. Wait in line ... then when we were four from the front, sit on the step, then down into the water then scoot up, then wait at the top of the slide for the OK to go from the lifeguard."
It might seem like a tedious routine to some, but for a child with autism, a routine like this is vital to help keep them happy.
"This was our routine," Skaggs said. "And every time she did it, her understanding of the routine improved and her patience increased."
Unfortunately, not everyone around Baylee stuck to her routine
Skaggs said "children are children," as several little ones didn't understand that they had to wait in line. They would immediately cut the line and go to the front to slide down.
She said for the most part it's no big deal, except for a child like hers. She said Baylee didn't mind that she had to wait a little longer to go down the slide, but "the steps of routine she just learned are now out of whack."
"And to her it feels like the end of the world!" Skaggs said in her post. "Coping with unexpected change is another skill we practice everyday."
She said it is an especially difficult lesson to teach her daughter, but it's even harder in public with lots of people around. Many people — especially children — don't understand why Baylee acts the way she does.
"I dread it," Skaggs said. "Not what she will do but what other people will do."
Skaggs braced herself for an outburst from her daughter and a negative reaction from those around her.
Then, something wonderful happened
A young girl standing in front of Baylee and her mother turned to them and said, "she can go ahead of me."
"Baylee had not had an opportunity to get upset yet, so I am not sure exactly why she did it," the mother said. "I felt like maybe she could tell by the way I had been talking to her that she had special needs."
Skaggs said she thanked the girl and told her how sweet she was.
But it happened again
"It wasn't long before we found ourselves in the same situation, when a young boy this time was in front and offered to let Baylee go ahead," she said. "He could tell she was not understanding what happened."
Skaggs praised the boy's behavior and moved on ahead.
"I was struck that two different children would be so intuitive and kind," she said. "Like most autistic children, Baylee does not LOOK any different than any other child. And it's not really immediately obvious by her behavior either."
She said she guessed the kind children were between the ages of 8 and 10, so she didn't understand how they noticed that Baylee may have needed a little extra kindness.
Then, Skaggs realized something ... the boy and girl were brother and sister
The boy and girl were playing together, and that's when Skaggs noticed their striking similarities. She approached the two of them and asked where their mother was so she could thank her.
In her Facebook post, she addresses the mother of these two wonderful children.
"I made sure to let your kids know how nice it was for them to be kind and understanding but I wanted YOU to know that you are raising two wonderful children," she said in her post. "When I came to you and told you about my experience with your kids and told you that they were super kids and you are doing a great job, you said 'I don't know about that.' Well, mom, you are. A small gesture like theirs may not seem like much. But I promise it was."
She said that not only did those two kind children help prevent any meltdown on Baylee's part, but it gave her hope as a mother.
"It made me happy to know that more moms are raising their children the way you are!" she said.
Though she spoke to the mother at the water park, she is now hoping her Facebook post will go viral so it reaches that same mother — so she can again see what a wonderful difference her sweet children made for Skaggs and her daughter Baylee.
This just goes to show what an impact kind gestures can have on others. It also serves as a reminder that you mothers are doing better than you think you are.