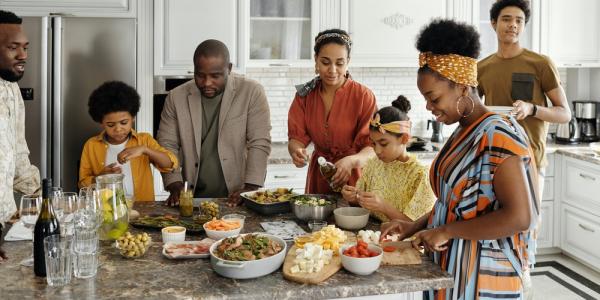 With more parents working long hours and kids participating in after-school sports, is having dinner as a family becoming outdated? Most Americans believe every dinner should happen as a family, and many others wish they could eat together more often.
In an analysis of 2,000 American adults, the average adult says they only spend three dinners of the week with their family. Most have witnessed a decrease in how much they eat with their family, leaving them hoping for more. When they were young, the average person remembered eating dinner four times a week with their family and two more dinners with people outside the family.
Almost half of the poll said that having dinner as a family is a vital way to connect while eating. Family dinners were also a great way to make memories, continue family traditions, and learn more about their family.
Standard etiquette rules for the dinner table.
Contracted by The Honey Baked Ham Company and led by OnePoll, the survey also examined the state of table manners in 2022. The data showed that 67 percent of those in the polls think having good table manners is essential to family dinners.
Thirty-five percent stick to the same etiquette rules they did when they were younger, and 26 percent say they've made their own rules as adults. According to the poll, the universal rules for table manners that Americans adhere to are washing your hands before dinner, not talking with food in your mouth, not slurping your food or drinks, chewing with your mouth closed, and not making noises with utensils. The poll also revealed the most offensive crimes at the dinner table. The top things to avoid are burping, not washing your hands, and chewing with your mouth open.
In a statement, Jim Dinkins, the Honey Baked Ham Company CEO, said, "We're happy to hear that families want to spend more quality time together talking, catching up, and bonding over a delicious family meal. What's pleasantly surprising to us is how many people consider good table manners to be an important part of the family dining experience."
The cost of convenience.
When dining with others, almost half of Americans would rather have home-cooked or ready-to-eat meals. However, eating at a restaurant or ordering takeout were close seconds. Parents were especially appreciative of home-cooked meals; four out of five favored them over any other meal prep. Still, the average parent only made four meals a week from scratch. Sixty-five percent say preparing for family dinner was stressful.
This idea was accurate, especially during the summertime, when 59 percent of parents said they felt more stressed about prepping dinner than 53 percent during the school year. When asked what's stopping them from making a home-cooked meal, 43 percent said they didn't want to deal with cleaning up after dinner. For others, the cooking skills or time held them back.
The average American says a convenient meal has to take less than 30 minutes to make. When looking at the price per meal, family meals cost almost $10.10 per person, $11.60 for fast food, $12 for takeout, and $12.40 for a restaurant meal. Dinkins added, "No matter how you define family, we're all looking for ways to keep family dinner stress-free. Finding something quick to make is only one part of the solution."
The pandemic's effect on family dinners.
A separate study taken during the pandemic found that dinnertime lasted longer than before. The average family dinner went from lasting 70 minutes to 85, a 20 percent increase. The survey also revealed that 57 percent of those surveyed said their family dined together more than at the start of 2020.
This study was held on behalf of Gold Peak Real Brewed Tea by OnePoll. Researchers also discovered that families came together for dinner five times a week, compared to four before the pandemic. Fifty-eight percent believed that dinnertime was the most relaxing part of their day. Millennials, aged 25 to 40, agreed more with this thought in comparison to 36 percent of Baby Boomers.
Additionally, many respondents considered a colleague, neighbor, or close friend as part of their family. Sixty-eight percent added a new family member during the pandemic, and 43 percent of them continuously included that person in their family mealtime. The poll found that the most common activities families participate in while dining together are watching movies, sharing family news, catching up on everyone's day, and binge-watching the latest television series.
The pandemic changed a lot of family routines and dynamics, but it also allowed them to spend more time together. This increase in time together also led to more chances to bond. Fifty-five percent surveyed said cooking with their children became a regular part of family dinners. Participants also shared stories of the most memorable dinner moments, including unexpected proposals, holiday gatherings, food fights, and one case where burnt cooking paved the way for a family pizza night.
Family meals became a cornerstone of spending time together with your loved ones during the pandemic. It's sad to think that family dinners are becoming obsolete a year later. However, families should look to keep having dinner together. There's nothing like sharing a meal with the ones you love as you discuss the events of your day.
Family dinners are the times when you can gather together around the table and bond. Some of the best memories you'll have as a family comes from sharing a meal together. The pandemic forced us to slow down and spend time with our loved ones. Unfortunately, things are starting to return to normal, and everyone is falling back into their same routines. Parents are beginning to pick their busy schedules back up, and after-school activities are starting to ramp back up with children going back to school in person.
Perhaps we should take notes from the pandemic and try harder to sit together and have a family meal. Spending family time together will strengthen your bond, and it's a decision you won't regret.