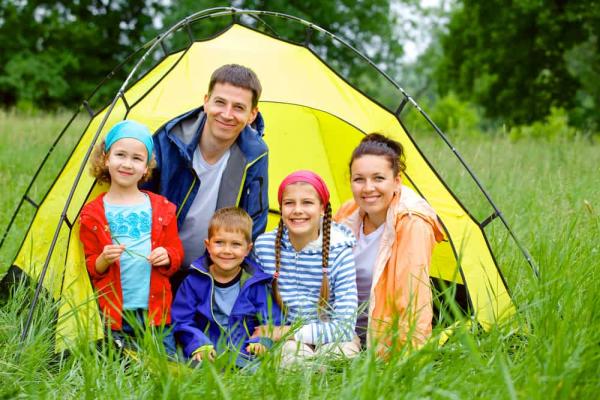 When I was growing up, camping was my family's vacation of choice. My mom was a good sport during these trips, considering her idea of camping was a motel without a pool. If you want to provide a positive outdoor experience for your family, you may have to compromise on your idea of the ultimate camping adventure. With a little give-and-take, camping can be enjoyable for everyone.
Camp close to civilization
You can experience nature without being miles away from a gas station. If members of your group can't handle many days of tent life and trees, choose a campground near an interesting town. The Oregon coast, near my home, has a number of campgrounds close to quaint coastal towns. When we camp in that area, we enjoy a mix of hiking, playing at the beach, and window shopping.
Keep modern conveniences
Let's face it, most people prefer a toilet that flushes. If you have small children, who accumulate dirt and grime at an accelerated pace while camping, you will be more comfortable in a campground with modern toilets and showers. Some even have electricity for those who can't live without their hairdryers.
Divide and conquer
Give older children and teens their own space. Many campsites have room for two tents. This allows the big kids sleep on their own. They'll enjoy having space to themselves. As a result, everyone might sleep better.
Research activities
Before you arrive, research the area and make sure there are activities available for your whole family. Most state and national parks offer hikes of varying difficulties. Some have junior ranger programs, informational firesides, and equipment like rowboats available to rent or borrow.
Good eats
You're more likely to have happy campers if you have good food to eat while camping. Spice up your s'mores routine by switching out graham crackers for cookies, milk chocolate for peanut butter cups or dark chocolate, and experimenting with some of the flavored marshmallows now available. If s'mores aren't your thing, surprise your family with a different campfire treat like banana boats or baked apples.
I always loved camping because we got to have soda; something we never had at home. The idea is to provide something different and special. Learn to cook with a Dutch oven or make foil dinners. Taking the time to make pancakes for breakfast or serve hot cocoa on a chilly morning will make even the grumpiest of campers happy.
Water features
Camping near water is a "must" for me and my family. From boating on a lake, kayaking at sea, or just playing on the rocks near a river everyone can be entertained by water. Small children love playing with sand toys or wading in shallow areas of water. Older children can paddle in a canoe or small kayak, hike then slide down sand dunes, and swim in lakes and ponds. Those who aren't interested in getting wet can enjoy reading a book or napping on the beach.
Include comforts of home
A family camping trip is not boot camp. If a favorite blanket or pillow will help a child have a better time, bring it. We always bring games and coloring books for kids who are bored and a few electronic devices if the weather turns bad.
Bring reinforcements
Invite friends or relatives to join you on your camping trip. Sometimes "the more the merrier" really works. Kids and adults enjoy having more people to talk with and play together. You can split up cooking duties and help each other supervise children.
Taking the time to plan your camping trip well while considering the needs of your family will help make for happy campers. If not, there's probably a motel nearby. It might even have a pool.