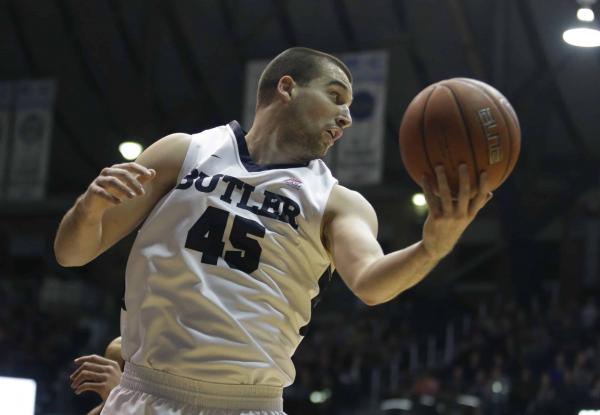 The NCAA Tournament is underway, and we've already seen a number of upsets and exciting moments.
And there have also been some moments specifically tied to family, with some college players showing appreciation for their siblings who play in the NCAA, or for their parents who used to.
Take, for example, Andrew Chrabascz, who currently plays for Butler, a team that has moved onto the next round of the tournament. His dad may be a familiar face to many basketball fans. Not only did his dad compete for Penn State in the 1980s, but also spent much of his career losing on the court as a player for the Washington Generals - the team that always loses to the Harlem Globetrotters, according to Penn Live.
"Andrew's routine is winning. Butler has been one of the most successful teams in college basketball over the past decade and Chrabascz has shot almost 50 percent this season and been a consistent board presence on a Bulldog club that finished fourth in the Big East at 21-10, 10-8," according to Penn Live. "But his dad's job as a professional was to lose - every time out. Although, he had some fun doing it."
Chrabascz's season will continue later this week, and the team hopes to secure another victory - something that Chrabascz's dad never experienced as a professional.
But Chrabascz is far from the only person in the NCAA Tournament who has NCAA ties to family. Here are four other family storylines to follow during March Madness.
This player's brother competed in 1996
Daniel Dingle had to wait 20 years to do something that his brother once did.
According to the New York Daily News, Dingle's brother, Dana Dingle, competed in the NCAA Tournament as a player for the University of Massachusetts back in 1996 when the team went to the Final Four.
The two brothers, though 20 years apart in age, both competed for St. Raymond's High School in the Bronx, New York. Back in the 90s, Dana Dingle went on to star alongside Marcus Camby on UMass' run to the Final Four.
Now, Daniel Dingle competes in the NCAA Tournament for Temple, a team that plays UMass regularly in the Atlantic 10 Conference, according to New York Daily News.
Daniel said his relationship with his brother helped make him a better player. The former UMass player would tell his younger sibling stories about basketball and the NCAA Tournament. He'd also often tell him about the motto "Refuse to Lose" - the phrase UMass' coach at the time, John Calipari, always preached.
Daniel Dingle hopes to carry that into this year's tournament.
"We have a strong relationship. He's really helped me with this game," Daniel Dingle told NY Daily News. "So me and my brother are real close. He helped me with my development. He helped me with coming to school and just with the mentality I have to work hard for everything I get."
Green Bay's player competes on his brother's home court
Kerem Kanter gets to play on the same court that his brother, Enes Kanter, calls home. That's because the younger Kanter's Green Bay will face off against Texas A&M Friday at the Chesapeake Energy Arena, where Enes Kanter plays for the Oklahoma City Thunder, NewsOK reported.
"It's really exciting," Kerem Enes told The Oklahoman. "How crazy is it? Out of all the arenas and all the cities, we're going to where my brother plays."
But the two brothers won't have a chance to meet this weekend. Enes will be in Philadelphia for a game against the 76ers while Kerem makes his debut in the NCAA Tournament. Enes Kanter will only have the opportunity to see his brother if Green Bay can pull off an upset victory.
Enes never had the chance to play in the NCAA Tournament. Though he signed with Kentucky when he was a collegiate athlete, NCAA rules prohibited him from playing because he already spent time as a basketball player in Turkey, NewsOK reported.
"I couldn't play, so I'm happy that he's playing," Enes Kanter said.
Sisterly love for a star brother
Indiana's Yogi Ferrell may be a top-tier player and future NBA star, but his sisters want the world to know that he's kind of "annoying," according to SB Nation.
In fact, they're letting the world know by wearing T-shirts that have the phrase "Yogi isn't famous, He's my annoying brother."
"Yogi Ferrell may be one of the best players in college basketball," SB Nation reported, "but his sisters couldn't care less. No, to them he's still just their annoying brother."
Carrying on the NCAA family legacy
Bennett Koch will finally have his time in the spotlight - years after he followed his older brothers through the NCAA Tournament.
As The Green Bay Press-Gazette reported, Koch made his second appearance in the tournament on Friday night for University of Northern Iowa against Texas. But he's long had a connection to the NCAA as he watched his older brothers compete in March Madness alongside his family when he was younger.
Koch's brothers Adam and Jake played on the 2009-10 University of Northern Iowa team that pulled off an amazing 69-67 upset over top-seeded Kansas. That victory won the ESPY for Best Upset in 2010, according to Green Bay Press-Gazette.
It made Bennet's decision all the more easy to play for Northern Iowa and carry on the family legacy.
"A lot of people around campus they know my brothers, they know my family," Koch said. "It's pretty cool to walk around and have someone say, 'Hey, I know your brothers. I know your dad.' It's always fun running into those people who know who you are and know your family's history."
For more on March Madness
When it comes to enrollment, March is only the beginning of the Madness
What you should know about the money in March Madness
10 quotes from Duke March Madness coach Mike Krzyzewski on family, faith and hard work