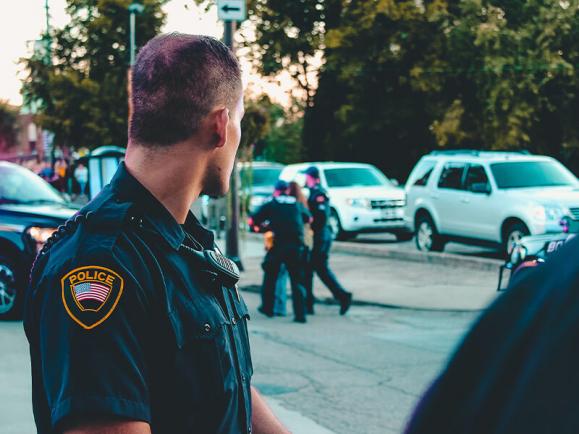 A Louisville family is thanking God after police officers quickly rescued their six-year-old daughter from an alleged kidnapper.
Moments before the rescue, bystanders had watched in horror as the six-year-old girl was snatched off her bike in broad daylight and put into a vehicle that sped off. It was their quick response into flight mode that led to police officers recovering the child unharmed. They provided a partial description of the alleged kidnapper's license plate which allowed police officers to locate the car almost instantly. In kidnapping cases, 78 percent of the victims died within three hours after their abduction, so officers saved this child's life.
As soon as police arrived on the scene, they ordered the driver, 40-year-old Robby Wildt, out of his vehicle, who immediately began apologizing and stated he '"felt bad" for taking the child and was coming to return her.
Officers in the video are heard shouting, "Let me see your hands! Put your hands in the air! Stay right there!"
Wildt is then instructed to walk backward and lower to his knees, where he was swiftly arrested.
Responding Officer Jason Burba opened the passenger door as dispatch mentioned another passenger and found the terrified little girl crying for her daddy. Burba immediately began comforting the child, telling her, "It's OK," as she wept.
Wildt was charged with kidnapping a minor and was placed on a 1 million dollar bond which hopefully won't get met anytime soon. Following the charge, Robby pled guilty and is currently awaiting trial.
Officer Burba said the following during an interview with WDRB-TV.
"You just can't get there fast enough. Seconds feel like hours. Your only thought is getting there as fast as you can."
The child will likely need therapy to help heal from the trauma she suffered. Children that young are defenseless, and we can only imagine how truly scared she was to be ripped away from her home. A home is a child's comfort zone. It's where they are supposed to feel the safest. Monsters are only supposed to be a figment of their imagination, not a stranger lurking to rip their innocence away. 
"She's a 6-year-old girl that obviously couldn't help herself. She was absolutely terrified. I hate the fact she went through this. I hate the fact this is probably something that's going to affect her the rest of her life. But we were able to get there. Get in the area, find her, rescue her from her captor, and we were able to prevent anything worse than what had already happened from happening to her." said Louisville Police Sgt. Joe Keeling.
Hopefully, the family in Louisville can find solace for now, knowing their daughter's captor is off the streets. While no physical harm was done, Wildt should be behind bars for the mental trauma that will likely last a lifetime with the child. Typically kidnapping charges can carry a minimum of five years behind bars. 
Parents can help keep their children safe by preaching on the realities of stranger danger which are still very real. Children need to be aware of not only their surroundings but also those closest to them. A child is kidnapped every 40 seconds in America, and 42 percent of the kidnappers are acquaintances. Your children need to know that dangerous people with bad intentions may try to lure them into their vehicles or away from a public view, which should raise red flags immediately. Young unsupervised children are prime targets for kidnappers because they can quickly grab them and escape without much of an effort.
Kidnappers and human traffickers have lure strategies that children, teens, and adults should constantly be on the lookout for, including the following. 
Kidnapper Red Flags 
They ask you to help find their lost dog 

They act lost and ask for directions. 

They offer candy or gifts if you get in their car.

They offer to give you a ride home if they see you walking alone.

They fake a crisis by telling you a parent sent them to pick you up.

Online predators will ask you to meet them alone, usually away from a public view.
Human Trafficker Red Flags 
A new acquaintance gives you lavish gifts and money. 

They offer to take you on an excellent opportunity to make a lot of money and get famous. 

You hear the phrase, "You can leave at any time."

After leaving with the acquaintance, they ask for your ID and passport to hold for "safekeeping." 

They want to take you on the spur-of-the-moment trip. 

They want to take you out of your current living situation and place you with a "friend."
It takes kidnappers just seven seconds to select their victim, which was how fast it took Robby Wildt to see the girl riding her bike and instantly circling back. Staying alert can keep you and your family safe. Remember, if you see something, say something because you may save someone's life.