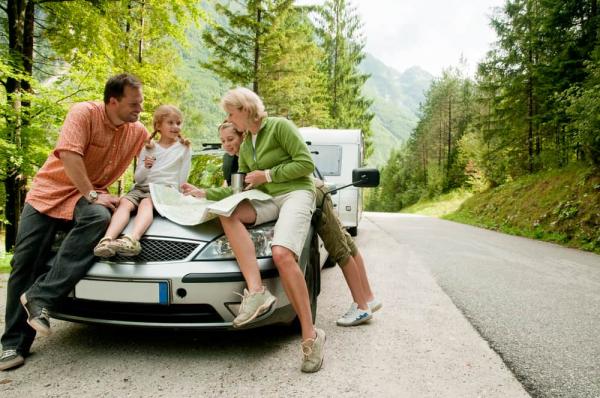 Sometimes a day trip is more desirable than a long vacation. Small children don't often sleep well in other places, hotels and eating out can be expensive and time off from work may be hard to come by. I love day trips because I get to learn about culture and history in areas close to home. Here are five tips to make your day trips successful and fun.
Plan ahead
Do some research about the area you're visiting. Cities and towns often have visitor's information online, as do state and national parks. If you've heard about a great site or museum from a friend, be sure to make sure it is open on the day you want to visit, and check what the admission price is. My husband likes to plan our trips around eating, so we make sure restaurants and farmer's markets are open. Having a list of things to do and places to visit will help you make the most of your day. For practical purposes, day trips should take place within a three hour drive of your home, or you'll spend too much time in the car.
Consider your group's needs
If you have small children, plan regular stops along the route to see interesting things and take breaks. Many highways have rest stops and wayside areas that are perfect for picnics. Don't plan to spend three hours at an art museum with kids, or to stay too long at a playground if you have teenagers along. A well-planned adventure will have something for everyone to enjoy.
Pack the right stuff
Bring a stroller if you'll be doing a lot of walking and have children under the age of four. Consider the weather and pack raincoats or jackets if needed. Bring along a camera to document your day. Think about your footwear too. If you're walking long distances or hiking, you'll need to wear sturdier shoes. I always bring along sunscreen and lots of water for summer trips, plus an extra towel or two if our meanderings find us near water, as they often do. A GPS navigation system or maps are also helpful if you're going somewhere new.
Look for the road less traveled
For me, part of the fun of taking a day trip is looking for something unexpected. I like to turn off at the historical markers, or visit interesting stores and galleries. My husband likes to try new foods and the kids enjoy looking in touristy shops for funny items. If you're flexible in your plans, you can take the scenic route and enjoy being free from a set itinerary.
Bonus features
Since day trips often involve a bit of driving, make the car ride fun by making a playlist of your group's favorite songs. I also pack a snack bag full of goodies (including a few we don't have very often). The journey can be as fun as the destination. Disney family lists several games that can be played in the car. Sometimes we don't bring along movies or electronics so that we can enjoy chatting and being together.
The next time you're itching to get out of town and have an adventure, you don't need to plan for a week away. Instead, find a free day and plan a day trip to somewhere new. Pick a spot on the map and see what you can find. Even if it doesn't turn out the way you planned, you're sure to have an adventure along the way.
This article was originally published on FamilyShare.com. Check out these other related articles: Are we there yet? Tips for road trips, How to build your child's confidence with a fishing trip and How to create a family adventure [VIDEO].