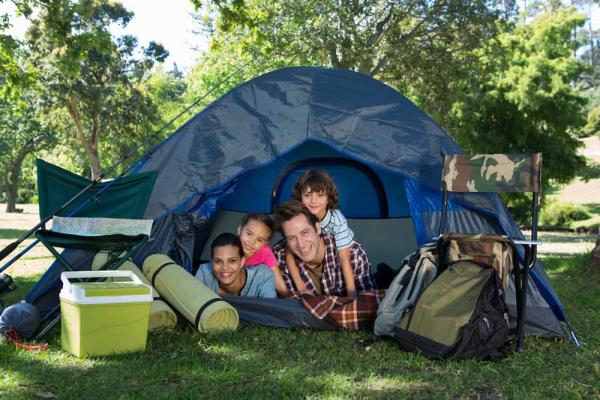 So you've decided to test your luck in the great outdoors? A well-planned camping trip can be a great vacation idea for your family and provide wonderful bonding moments with your children. Some of my most favorite childhood memories come from family camping trips, like hiking to an old fire lookout with my dad, swimming in a clear, fish-filled lake, singing camp songs beside a crackling fire, and watching early morning meteor showers through gaps in the pine trees.
You, too, can give your children some wonderful family camping memories. Just be sure you're prepared for that camping trip, otherwise those memories will be of a decidedly different nature.
Make sure your tent is big enough
You can disregard what the package at the store says. If you have a family of four, don't buy a "four-man tent." You'll be lucky just to fit you and your spouse inside, and that's if you don't mind getting cozy. Buy a tent with capacity for one person more than you need to make sure you have enough room.
Pack sufficient bedding material
Sleeping on solid ground is not quite as comfortable as sleeping on a hard wood floor. At least the floor is flat; the ground you camp on will be covered in odd knobs and bumps and likely won't be level. For padding beneath your sleeping bags, bring thick blankets, an egg carton pad, or an air mattress (just remember to bring a battery-powered pump, as well).
Bring bug repellent and sunscreen
Nothing is more miserable on a camping trip than having to swat at mosquitoes. Bug repellent may be smelly, but it can prevent you from getting eaten alive. Sunscreen is another necessary evil. You may not enjoy the oily feeling on your skin, but it's a whole lot better than turning into an overcooked lobster.
Choose a well-groomed campground
For your first time camping with the family, it's best to stick with a designated campground complete with bathroom facilities. Save the real "outdoorsy" experience for when you've gotten the hang of surviving in the outdoors. Campgrounds often lack running water in the bathrooms, however, so plan accordingly.
Watch the weather forecast
Camping in the rain isn't fun, especially since tents are not entirely waterproof. Plus, it's not much fun for your kids if they can't enjoy running around outside. Also, remember that mountain areas have colder nights, so you'll want to bring warm jackets, extra blankets, and plenty of firewood just in case.
Pack the right food
You won't have access to refrigeration during your trip, so bring food that doesn't need to be kept cold. You can bring a cooler packed with ice, but the ice will only last so long, so any food that needs to be refrigerated should be eaten the first day. Also, check to find out what kind of wildlife might be in the area where you're camping. If the campground is in bear country, you'll either need to keep food locked in the car when you're not eating, or learn about how to hoist it up in a tree beyond a bear's reach. Do NOT keep food with you in the tent, especially overnight.
Supply kids with activities
Kids raised primarily in the city or suburbs might not know what to do when set loose at your camping site. Bring along a Frisbee, a ball, card games, or some other activities to help occupy them.
Camping can be a great, and reasonably cheap, family vacation if you know how to do it right. If you think it could become a family tradition, invest in quality items like durable tents and thick sleeping bags to make your camping trips more comfortable. Don't forget to record your exploits in a journal or on a video camera, so even after you've packed up and returned home you can still reminisce about those fun camping memories.