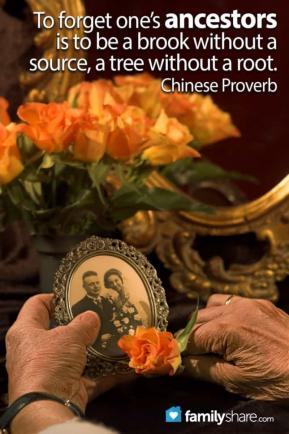 Searching for your family is easier today than ever before. The only reason many haven't started their research is the simple fact that they don't know where to begin. Learn the basics of beginning a simple family tree.
Gather supplies
Begin by printing out several family group sheets and a pedigree chart. Links to these and other genealogy forms can be found here at no cost.
Start with yourself and fill in your information and then your parents' information. Fill out as much as you know about all the ancestors on this chart. You can purchase a genealogical program for your computer or go online and get one here free.
Find something you can keep your research in, even if only a shoebox. Now start collecting any family records you may have in your home. Birth records, death certificates, newspaper articles, dated pictures, family memorials, scrapbooks - anything that would give you a new clue or verify what you already have. Check these against what you wrote on your chart and fill in all the missing information possible.
Consult living resources
Next start visiting with living relatives. Parents, siblings, aunts, uncles, grandparents. Visit older relatives first - or you might miss the opportunity. Even your youngest sibling will have stories you don't know. Be sure and record notes and stories whenever you can. Take notes if recording is not possible. Find out who has already done research on your family. Contact them. Normally genealogists are anxious to share their information.
Sometimes it is hard to get people to start talking. One way to get conversations and memories rolling is to look at photo albums, especially of ancestors. Don't hesitate to ask questions. Names, dates, locations, and how people are related are all needed information. Plan ahead and have questions in mind that you would like to know from each of them.
Capture your evidence
Take pictures, or take a small scanner and laptop with you to record as much as possible for your records. Be sure and take notes as to what each picture and document is. It is distressing to find you don't remember who that picture was or how they are connected. Document as much as possible while you are there. Many times you will never have the opportunity to visit again.
Get more than facts
Don't get just bare facts, get details, and collect stories. Make these people come alive. They are your family, with much the same needs and wants as you, the same faults and weaknesses. When we learn about the trials, tragedies, and victories of our ancestors, it gives us a real sense of gratitude. We learn more about ourselves. We become connected.
As Russell M. Nelson said, "When our hearts turn to our ancestors, something changes inside us. We feel part of something greater than ourselves." There are almost as many reasons to start searching your family history as there are people. Whatever the reason that has piqued your interest in finding out about your ancestors, once you start you will never be the same again.