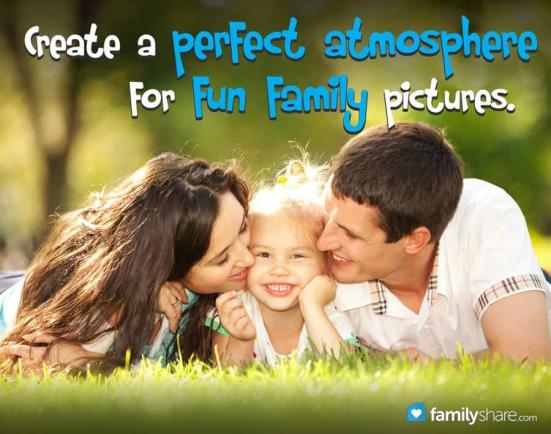 Christmas is fast approaching. With the stress of buying gifts, decorating, and travelling, it's easy to add family pictures to the list of stressful holiday activities. But, family pictures don't have to be stressful; they can be a fun experience instead!
While professional photographers can give us beautiful pictures to hang on our mantle, we probably don't need a professional picture every year. The cost of professional pictures automatically makes taking pictures a stressful activity, as does planning your schedule around a busy photographer and feeling the pressure of getting the perfect picture in a limited amount of time.
There is definitely a place for professional family pictures, but there is something to be said for having a fun, simple photo shoot as well. By getting another family member or friend to take your holiday pictures this year, your stress levels will decrease dramatically and everyone will feel more comfortable and natural.
Once you've created the perfect atmosphere for fun pictures, you're ready for some funny pictures. You can find many ideas around the internet, in magazines, or even on a professional photographer's gallery. Ask your friends if they remember any funny holiday cards or have thought of any themselves (that they are willing to share, of course). Here are some of the great ideas "floating" around the Internet:
1. Silent Night. Wrap up the kids in Christmas lights and put duct tape (or something like it) over their mouths. Just make sure the kids are willing.
2. Dog Pile. Put Dad and Mom on the bottom, then let the kids pile on. You're guaranteed to get some natural smiles and laughs.
3. Involve the Pets. Wrap your dog in Christmas lights or snap a shot of the cat in the tree to show their mischievous personalities.
4. Mama kissing Santa Claus. Dress up your husband as Santa Claus and be sure to capture the kids' faces as you kiss him.
5. Little Elves. Dress the kids as elves and Mom and Dad as Santa and Mrs. Claus.
6. Ugly Sweaters. Mock your old family photos with ugly Christmas sweaters and mugs of hot chocolate in front of the fire place (you can even fake a fireplace out of construction paper for extra "cheese").
Find some more ideas and inspiration by visiting the websites below. Most of all, just be sure to have fun!
Visit these websites for more ideas: awkwardfamilyphotos.com, http://www.pleated-jeans.com/2011/12/13/the-25-funniest-family-christmas-portraits-of-all-time, and http://blog.poweroftwomarriage.