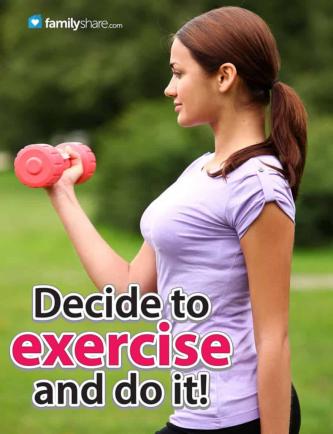 This article isn't about me, but I want you to understand that I can relate to you. I am the king of the pre-exercise dillydally. I typically workout five days per week and getting from the bed to the gym is a challenge every time.
By my late 30s, I was almost 100 pounds overweight and was headed the wrong direction. The moment of change came when this photo was taken. Of course my pride at having caught a one-pound trout is embarrassing enough, but when I saw those saggy man-breasts and my general rotundness, I knew I had to change.
Following are keys to making exercise a regular part of your life:
Schedule the time
. You will never, ever find yourself with nothing to do and say to yourself, "I'm in the mood to go for a run!" The couch will call, the kids will clamor, your spouse will lovingly harangue and you will never get to the gym. Put a date on the calendar at a time that works for you - morning, noon or night - just get it on the schedule.
Start small
Don't plan 10 hours in the gym the first week. Try to schedule at least three outings that last at least 20 minutes. With time, you may gain the desire to do even more, but for now focus on getting into the routine of three workouts each week.
Make it convenient
. Your workout should be hard, it should make you drip with sweat and feel genuinely tired when you finish, but it should be easy to fit in your schedule. If you can, find a workout routine you can do at home or right out your front door. I have a gym membership and I love it. My gym is only one block away and it's cheap. Because it's close I go more often. Don't plan to do something across town. If you don't have access to a nearby gym that's reasonably priced, you're much better off just going for a run or even a brisk walk right out your front door so you're not wasting time getting to and from the gym.
Be social
If you can find a friend in the neighborhood who will walk, run or ride with you, you'll enjoy exercising so much more. You'll also hold each other accountable. If your friend starts to cancel on you, be sure to talk to her to figure out what the problem is. Find a better time or something more fun to do, but keep her motivated and make her promise to do the same for you.
Be accountable
There are a number of applications (I use Runkeeper) that allow you to track your workouts. Most of these now allow you to post your workouts online to annoy your sedentary friends! Don't dismiss this idea. Your posts will bug your friends (which may inspire them to get off the couch), but more importantly, they will give you a brief moment of satisfaction that may be the key to getting you into the habit of exercise.
By combining the strategies above to make exercise easier and more fun, then holding yourself more accountable, you can change the pattern of your life. You can do it. Trust me. I've run a marathon and lost 80 pounds. You can, too. This week decide which exercise routine you would like to do and decide on the number of days you will do it.