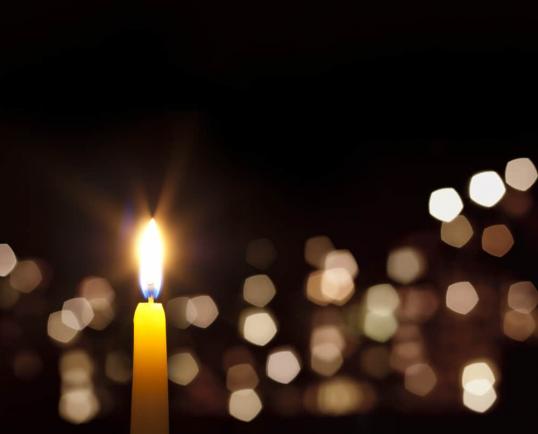 In Charles Dickens' book, "A Christmas Carol," Ebenezer Scrooge is a stingy old man who cares more about his money than people - or anything else in the world. His favorite words are, "Bah humbug!" When his nephew invites him to Christmas dinner, Scrooge answers, "Merry Christmas! What right have you to be merry? What reason have you to be merry? You're poor enough." At which his nephew retorts, "What right have you to be dismal? What right have you to be morose? You're rich enough!"
Christmastime can make the richest parent feel poor and the poorest parent feel totally overwhelmed. We are surrounded by worldly messages begging us to blow our budgets yet another year so that our children will be happy and love us. The pressure is on to earn that bonus, shop that sale and make the gift that will be the envy of every friend who sees what your child found under the tree.
Isn't it ironic? All of this is done in the name of the man who said, in Matthew 8:20 (King James Version), "The foxes have holes, and the birds of the air have nests; but the Son of man hath not where to lay his head." The Savior was homeless! And yet all we have, all our children have, are gifts from the God who said, in James 1:17 (KJV), "Every good gift and every perfect gift is from above, and cometh down from the Father of lights..."
This Christmas, rather than worrying about getting your child the biggest, best gift, worry about teaching your child about the greatest gifts ever given: the Christ Child and the gift of the Atonement. Put your energy into teaching your children the true meaning of Christmas. Spend your effort serving as the Savior served. Focus on faith.
Fun ideas for keeping the focus on Christ
Christmas past
Serve a true Christmas meal. As a family, learn more about life at the time of Christ. Catholic Foodie talks about foods eaten at the time the Savior walked the earth. The Pittsburg Post-Gazettealso shares fun information about food eaten at the time of the Savior and links to brick oven bread and more. Cook together as a family and eat a meal similar to what the Savior would have eaten as a small boy or during His ministry. Learn about His life, read scriptures together, recreate the nativity and immerse yourself in the past. To put your family in the mood, try watching the old movie, "The Littlest Angel," or listen to Josh Groban singing, "Oh Holy Night."
Christmas present
Meet as a family and explain how Christmas gifts symbolize the wise men's gifts to the Savior. The Savior gave gifts of service and love to everyone. As a family, choose another person or family to serve. This service does not have to be in the form of expensive gifts, and it does not have to end when Christmas is over. As a family you are going to pick a friend, neighbor or organization to serve. The best service is done humbly and in secret. Keep a family journal of your experience. Let your children take the lead and help surprise others with cookies they helped you make. Let them mow a lawn or shovel snow.
Christmas future
Tell your family that, this year, you are going to put special gifts for the Baby Jesus under your tree. Write letters to the Christ Child and tell Him what present you will give Him for the following year. Will you pray more, be nicer to your family, study scriptures or provide service to someone in need? Write it in your letter. Place the letters in a book and save them. Reread your letters the following Christmas to see how well you did. Then, add another year's letters to your new tradition.
In Charles Dickens' story, Scrooge is visited by spirits and shown that he has chosen money and worldly goods over people he loved. He is given one more chance to live and do the right thing...
Christmas is a wonderful time to renew your focus on God - a wonderful time for reflection. Have you been naughty or nice? Have you served your fellow men? Have you truly had the spirit of Christmas or the pure love of Christ - the desire to give to others all year?
This year, keep your focus on giving, serving and caring for others. As Charles Dickens said of Scrooge at the end of his tale, "he knew how to keep Christmas well, if any man alive possessed the knowledge." May that be truly said of us! And, as Tiny Tim observed, "God bless us, every one!"