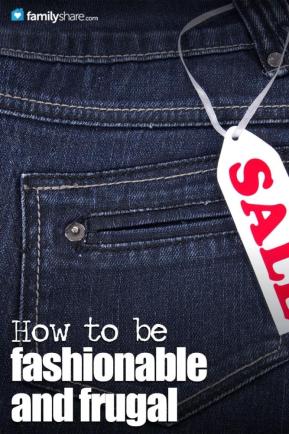 Fashion is a form of artistic expression. Fashion ideals and trends change depending on culture, time period, season and economy. We choose our daily and special occasion ensembles based on several factors - one being what our socioeconomic status is.
Being fashionable doesn't mean deviating from your family's budget. If you're a clever fashionista, you can help your family look great by spending less and being more creative with what you already have. Adding a few accessories is one way to extend your clothing repertoire. In a tough economy, everyone is in discovery mode searching for new stores, new deals and new ways of wearing clothing.
Back to school shopping usually includes trips to clothing stores to buy new threads for the kids. This year, rethink what you already have and how to stretch it. Thrift stores and consignment shops tend to be havens for fashion conscious families on a budget. However, not all thrift shops are created equal. To find some great ones in your town, check out the super helpful directory. This is a national database of almost 10,000 charity and thrift shops, searchable by zip code. An owner of several consignment shops in Alabama created a new website that has been featured all over the media as a consignment community to help families stretch their clothing dollars.
Outlet stores can be a great place to get brand name clothing for less if you know what to look for. Many clothing stores now make items specifically for their outlets which are of lower quality. Sometimes the merchandise items are irregulars so don't skip the dressing room before you buy. It's not a bargain if you can't wear it. Many outlet mallsoffer coupons on top of the savings. Do an online search for "outlet store coupons" and the name of the shopping centeryou're planning on visiting.
If you are what you wear, then here are 20 tips to consider when making your family's wardrobe last longer and present your best selves to the world:
Don't buy "dry clean only" clothes
This avoids the frequent dry cleaning bill.
Avoid light-colored shirts
This prevents unsightly stains if you're naturally clumsy and tend to spill food down the front of your shirt.
Store sweaters folded on a shelf
Put them in a drawer, rather than on a hanger where they can be stretched out.
Close all zippers and empty pockets before washing
Unzipped clothing can chew up the rest of your clothing in a load of laundry.
Hang dress shirts
This way they don't get wrinkled when folded up in a drawer.
Stretch out your laundry days
You don't have to wash clothes every time you wear them - only when they're actually dirty. Using those laundry sticks like "Shout" or "Tide to Go" can stretch out the days in between your laundry days.
Don't buy lint rollers
Wrap tape around your fingers to create an inexpensive one.
Polish your shoes
This may seem old-fashioned, but it actually helps them last longer, preventing dirt from settling into cracks.
Store those extra buttons
Some new clothes come with extra buttons. You may need these one day so store them in your sewing box so you can find them easily.
Learn how to mend your clothes
Prolong the life of your clothes by sewing on missing buttons. You can even bring new life to the look of a blouse or dress by simply changing the buttons to a different color or something more whimsical.
Choose your deodorant carefully
Some deodorant brands can leave stains on your clothing.
Wear a cooking apron
It will protect your clothes from oily splatters that are impossible to remove.
Hand wash delicate clothing
You can also put them in those little mesh bags to protect them from other clothes in the machine. They really do work.
Wash clothes in cold water
Do this whenever you can. You'll notice a drop in your energy bill. Also, delicate fabrics will hold up better when not subjected to heat. Cold water detergents on the market now have been designed to remove dirt without hot water.
Separate whites and color loads
Colored fabrics can bleed onto whites too easily and ruin entire loads of clothes. Using bleach on white loads can keep white clothes looking fresh and bright longer.
Consider line drying your clothes
You'll save a fortune on drying costs. If you can't stand the thought of putting on stiff clothes, you might try a compromise of drying clothes in the dryer for a shortened amount of time and then line drying them until completely dry.
Cover up stains
If a light colored piece of clothing gets stained, you could use Rit Dye to cover up the stain and change the item's color to something darker, rather than throwing the whole thing away.
Make shoes last longer
A Sharpie can cover a multitude of scuffs on your shoes to make them last longer.
Don't overstuff your closet
Clothes wrinkle faster when they are smooshed together tightly.
Donate
Give away a piece of clothing to charity every time you place a new item in your closet.
Memorize and live the thrifty quote: "Use it up, wear it out, make it do or do without." There is a fun new website that advocates non-consumer living to help you stretch your family's budget. Challenge yourself to see how long you can go without buying a new piece of clothing.