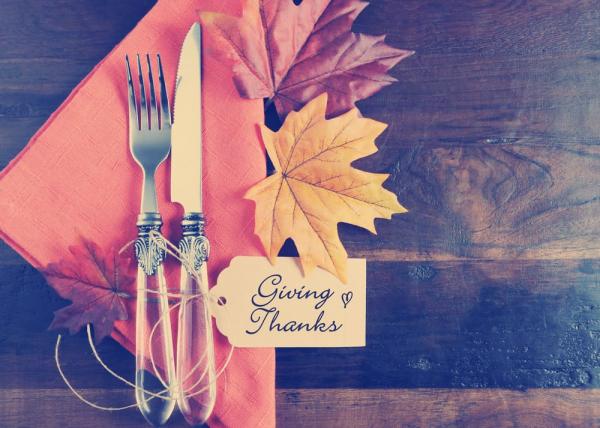 If you are like me, you are probably expecting a houseful on Thanksgiving Day. While I love and appreciate taking a special day to remember our blessings and hold a family prayer of gratitude, Thanksgiving puts hostesses in high gear and sometimes, it is too much stress and I end up wanting to eat every pie.
So rather than procrastinate until the day before, here are some simple steps you can do now to prepare for the big event.
1. Start Cleaning
Use all that pre-hosting Thanksgiving excitement/anxiety to your advantage and get your deep cleaning done the week before, including these tasks:
Start and put away an extra load of laundry every day between now and Thanksgiving.

Deep clean all the bathrooms (you can always touch up the guest bathroom the morning of)
Find several cardboard boxes and fill them with toys, books and other gently used items you don't need any more and store them out of the way. You'll love having these items ready to donate to holiday goodwill programs as well as having a decluttered home for your Thanksgiving.

Sweep and decorate your front porch to receive your guests. A clean porch and a simple wreath on the door, welcome mat and/or stockpile of fall pumpkins can really brighten the entry to your home.
2. Plan Your Thanksgiving Meal and Include Your Guests
You cannot do it all alone. Well, you can but why would you want to?
Typically, if you are hosting Thanksgiving, you'll want to be the one to cook the turkey and the trimmings that go along with it. You don't want to ask your grandmother to try and transport a hot turkey, including all the juices to your home for Thanksgiving. Do the turkey and delegate the rest.
Your guests expect to bring something to Thanksgiving, but do not know what you need and so communicating with each guest and having them bring one thing can really help out.
Here is a list of things that are easy to transport that your guests can bring for Thanksgiving dinner:
Rolls

Sides like green beans or salads

Yams or sweet potatoes

Dressings for salads and cranberry sauce

Drinks

Pies or other desserts

Also include your guests in planning activities such as games for the adults and coloring/crafts for the kids. You'll have your hands full cooking turkey and setting the table (not to mention cleaning up afterward), so delegate the entertainment.
If your guests feel included, it will make the day even more memorable for them. Just make sure you ask someone who is comfortable being in front of the group.
3. Shop the Week Before
There are some things that you'll want to run to the store for last minute. But you don't need to be standing in a long grocery line with a full, heavy cart and a bunch of curmudgeon people anxious to get out of there the day before or even on Thanksgiving Day. Nothing will make you feel less gratitude than a bunch of frowny faces in the check-out line or embittered grocery store workers!
Make your list and get your shopping done now. Just remember, it can take up to 3 days for a frozen turkey to thaw in the fridge so read the directions and plan accordingly.
Some of the things you may want to pick up now include:
Turkey, if you are purchasing frozen (I like to purchase a fresh, young turkey so I get mine at the last minute but frozen is fine as long as you allow time for it to thaw. Frozen is often cheaper for a bigger turkey.).

Any paper goods you may need for your Thanksgiving table including your decorations.

Cold medicine - it may sound unconventional, but just plan on someone in your family (hopefully not the hostess) getting sick right before you are ready to host Thanksgiving. Stock up on your medicine in advance so you'll have it.

Any other grocery items that can be stored in the pantry.

Also make sure your house is well stocked with toilet paper, paper towels, hand soap for the guest bathroom, etc.
4. Get All Decorations Ready
Chances are husbands and children who have the day off from school and work are not going to relate or understand why mom is so worked up and frazzled about hosting Thanksgiving. They'll probably plop down on the sofa with their feet up just as you want to vacuum the family room. Make sure you give yourself extra time for last minute cleaning and getting yourself and your family ready the morning of Thanksgiving.
My favorite hosting tip is to get a big box and fill it with everything you will need for the table setting and decorations (except dishes of course, unless paper plates). Some of the things you may want to include in your box are:
The tablecloth already ironed (if fabric).
When you put it in the box, fold it in half lengthwise and roll it so it won't crease. You can always touch up the middle crease but having the tablecloth ready to go will save you a lot of time on Thanksgiving.
Any paper goods if using them: plates, napkins, utensils, name cards ,etc.

Any items for your centerpiece that aren't fresh flowers such as pinecones, vases, autumn leaves, wood and candles, etc. Whatever you are using for decorations that can be stored in your hosting box, you should gather and place it in there now.

Guest favors if using you are providing them or something for young children like candy or Thanksgiving themed coloring pages or small toys.

I like to throw in there a tin of breath mints to set out if I am serving food.
5. The Night Before and Morning of Thanksgiving
After my children go to bed the night before I'm hosting an event, that is when I do all of the cleaning and decorating of the table. That way, I can wake up in the morning, get ready and go to work in the kitchen. I can always touch up on the cleaning but having the majority of it done, really helps out.
Also, having a designated children's entertainer, a.k.a., my husband, take the children out of the house to play outside or go to the mall playground is a life-saver. Just having them with an outlet to get some of their energy out without destroying all the work I've put into hosting, is very helpful for an hour or two. Sometimes I even send them to breakfast or outside with sack lunches so they aren't adding piles of dishes to the kitchen sink.
Have a movie planned when they return and some popcorn so they'll want to lounge and stay out of the kitchen while you finish up.
Lastly, enjoy hosting Thanksgiving. This is a rare opportunity to create a special memory for your loved ones and it is an honor to host.
Here are my suggestions for making Thanksgiving pleasant for everyone.
Designate someone in the household to stand watch at the door and answer and greet each guest.

Have a place for coats, purses, shoes, etc. that is obvious to guests and is out of the way so no one will bother their personal belongings.

If they are coming to your home for the first time, while welcoming them just point out, "the bathroom is over there if you should need it."
Make sure you have enough seating and designate a comfortable spot for elderly guests and keep that spot open for them.

When in doubt, just keep smiling. This is something that is not natural for me because I have inherited a "thinking face." It doesn't mean I'm unhappy, but smiling is not something I first think of to do and so when I'm hosting, I have to continually remind myself to smile.

Have fun and don't forget to eat a slice of pie!
What is my favorite Thanksgiving hosting tip? It is for your guest who cannot think of anything to say except negative political commentary at Thanksgiving dinner.
Give him or her a BIG job to do such as carving the turkey (maybe some of all that negative aggression can be taken out on Tom Turkey), or making sure the drinks are well stocked. You could even assign that relative to clear the tables and do the dishes to ready the tables for desserts. Or, have them slice up all the pies and serve the ice cream. Just give that person a very important job and praise their hard work in helping out. wink
This article was originally published on my blog. It has been republished here with permission.