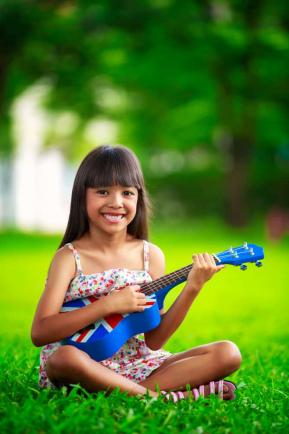 Even though school ends for summer vacation, growing young minds continue to soak up everything in their environment. Less structured days and more free time provide a perfect opportunity to let children follow their own interests in a way school time may not allow. Our job as parents is to keep their environment stimulating, offer new experiences and nurture developing interests. After all, kids learn best about something they are naturally drawn toward. Here are some fun and creative ideas for inexpensive, enriching educational activities.
Make music together
Summer is the perfect time to experiment and discover a child's hidden talents. Allow them to try playing a new instrument. If they already play one instrument, encourage them to try another. Visit a music store and watch your child carefully to see if they become drawn to anything in particular.
If your child shows interest, check a thrift shop or online classified ads to see if you can purchase a used instrument inexpensively. Let your child fall in love with a piano, electric keyboard, guitar, drums, horns, harp, triangle, xylophone, ukulele, or even a cowbell. If your children are very young, you could even make your own instruments. Put rice in a plastic container and shake to the beat. Stretch butcher paper over a can and fasten with elastic bands to make a drum. Bang pots and pans with wooden spoons.
Have fun making music with your kids and their new instruments. Compose your own songs and record yourselves playing your music. Kids love the intoxicating power of holding a microphone, even if it's hooked up to an old tape recorder. You could make a music video of yourselves, upload it to YouTube and share with friends. Have a sing-a-long karaoke party or crazy dance session with their choice of music playing really loud.
Try taking a few music lessons, even if just for the summer months. Many teachers offer the first lesson for free as a trial. Even one lesson could be an enriching experience for your child and lead to more interest later. If you can't afford to purchase an instrument, perhaps consider singing lessons, possibly including the whole family together!
Enjoy watching other people playing music and using their creativity. Attend a symphony, jazz, or other concert at a free outdoor venue. Watch a ballet or other dance performance. Catch a play in the theater. You can often buy inexpensive, last minute "will call" tickets for bargain prices minutes before a performance. Seeing others make music and art will inspire your children's creativity in a very memorable way and demonstrate the importance your family places on the value of the arts in our lives.
Advance their education...and yours
Visit a museum of art, history, natural history or science. Go to a zoo or aquarium. Many museums have one day or evening per week offering free or reduced admission. Take advantage of museum education programs and classes like pottery, painting, fused glassmaking, bird watching, scientific experimentation or photography.
Enroll in any kind of class. Some kitchen stores offer cooking classes for parents and kids - together or separately. Have your kids try a gymnastics, trampoline, karate or dance class. The first class is often free and summertime can bring low attendance so it's a great time to try new activities in different venues they haven't seen before.
Make a day trip to your nearest university campus. Inquire about summer courses or day programs for children. Tour the library, student union and dorms. Inspire your children with visions of their future college lives that will motivate them to do well in school now.
Have a math facts competition with flash cards. See who is fastest. Give rewards for every level of participation. Conduct some easy but impressive science experiments that your kids will remember for years.
Buy fancy new journals and get out the art supplies. Write your own biographies or fictional stories and illustrate them. Create your own comic books based on your kids' life experiences so far.
Research another culture
Visit your library and ask about activities and classes that they provide. Some libraries keep a file of other organizations' different programs offered locally for kids. Let your kids browse the stacks and follow their interests in the children's area but also in the adult section. Let them find and check out new cookbooks, movies, craft guides and science handbooks to inspire some fun activities you can do at home. If you're already a regular at your local library, try another nearby library the kids haven't seen before, especially if it's larger or in a more urban setting.
Listen to foreign languages on DVDs borrowed from the library. Pick a theme and use it to create different weekly dinners: Italian, Thai, Chinese, Japanese or Indian. Research the culture and history at the library. Learn some vocabulary words to describe what's on the table and practice phrases for polite dinnertime conversation. Tell stories from your chosen country at dinner or bedtime. Listen to music from the country too.
Go to a thrift store and look for a few inexpensive items to add to your cultural theme. It's exciting when you come upon unexpected treasures: a cheap copy of the Mona Lisa painting for your Italian pizza restaurant, colorful shawls to create a sari costume to wear to your Indian meal, a fancy table cloth with matching napkins to create a Thai atmosphere, intricate chopsticks for your Chinese dishes or matching ceramic plates and rice bowls for sushi.
Summer experiences, especially those that are hands-on, imaginative and engaging, will help your children stay sharp through the summer months. Nurturing a child's creativity and supporting their imagination will create wonderful memories you all will treasure for years to come.