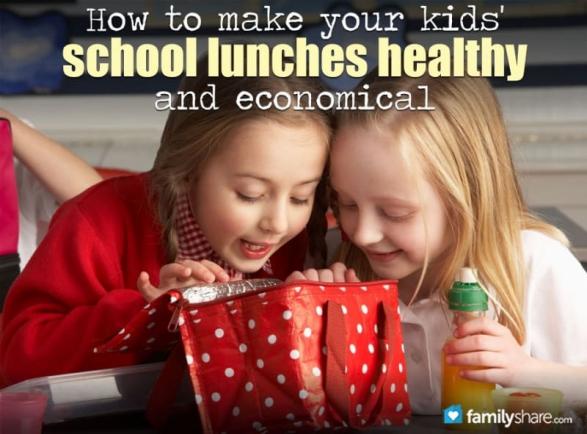 With school just around the corner for our kids, parents are again starting to think about all the expenses that come with it. School clothes, school supplies, school fees and of course, school lunch.
For many families, the cost of buying lunch at school is too high to comfortably fit in their budgets. So they have opted to send their kids to school with a sack lunch. For these families, here are three tips to make their kids' lunches healthy, economical and fun to eat.
Make sure your child's lunch is well-balanced and healthy
Following the guidelines of the food pyramid can be helpful here. Make sure the food in your child's lunch bag has the right amount of protein, carbohydrates and healthy fats, as well as vitamins. One possible lunch could include the following: a peanut butter and jelly sandwich on whole wheat bread (provided there are no peanut or other allergy issues) a pudding cup, a small bag of carrots, an apple, a juice box of 100 percent fruit juice and one or two whole wheat chocolate chip cookies.* Omitting the juice box and including money for a carton of milk may also be an option.
Be mindful of what can stay fresh without refrigeration
Kids' lunches usually sit on the shelf of their coat rack, or in backpacks from morning until lunchtime, and these of course, are at room temperature. Being aware of what can reasonably keep for that long can help keep your child's lunch fresh.
When I was a child, I remember I had a friend who brought her lunch to school, and in the lunch was a boiled egg. After lunch, she started getting stomach pains, and had to go home. It ended up not being anything serious, but she and her mom came to the conclusion that it likely had something to do with the boiled egg in her lunch that had sat unrefrigerated on the shelf all morning.
Make sure that your child enjoys what is included in her lunch bag
A home lunch can be both healthy and tasty for a child. Being aware of the sorts of healthy foods a child likes, can help her enjoy lunchtime. My daughter loves crisp apples. It doesn't matter what kind they are, so long as they are crisp and crunchy. But she cannot stand pears. For that reason, I would never pack a lunch for her with a pear in it, but I would include an apple, which is both healthy for her, and something that I know will be eaten rather than thrown away.
Additionally, including something sweet, which also has nutritional value, like the whole wheat cookies, can give your child something to look forward to at lunchtime that is also good for her.
knowing what to pack in a child's sack lunch can help make a child's lunch healthy, safe, and delicious, while helping parents save money at the same time. And this can make both parents and kids happy with the choice to bring a lunch from home.
*Below, I have included a recipe for whole wheat chocolate chip cookies that you and your children may also enjoy:
Whole Wheat Chocolate Chip Cookies
¾ cup white sugar
¾ cup packed brown sugar
½ butter or margarine
½ cup oil (preferably canola oil)
1 t. vanilla
1 egg
2 cups whole wheat flour
1 t. baking soda
¼ t. salt
¾ cup semi-sweet chocolate chips
Preheat the oven to 375 degrees. In a large bowl, mix the sugars, butter, oil, vanilla and egg until blended. Beat in flour, baking soda and salt until well-blended. Finally, stir in the chocolate chips.
On an ungreased cookie sheet drop cookie dough by rounded tablespoonfuls about 2 inches apart.
Bake seven to nine minutes until cookies are golden brown. Cool for at least one minute before eating.
These cookies are delicious either cooled or still warm.