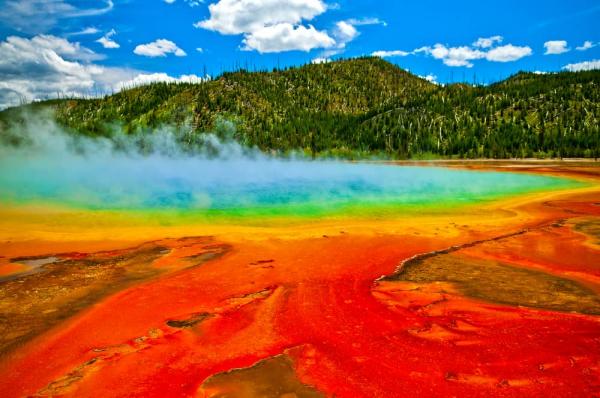 If you're planning a trip to Yellowstone National Park, you probably have some idea of what to expect. You've heard of the geysers that shoot boiling water hundreds of feet in the air. You've seen pictures of pretty hot springs whose depths change from blue to green to orange. And, you've likely been told stories about the number of buffalo, elk and moose you might see. But, nothing can really prepare you for the grandeur of our nation's first national park-nothing, that is, except seeing it for yourself.
It's impossible to really experience all of Yellowstone in one day. If possible, set aside at least two to three days of your vacation touring the numerous dazzling geographic and thermal features. Even then, you'll only have seen the tip of the iceberg that is Yellowstone. The following, in order of importance, is a list of the top sights you can't miss when you take a trip to the land that time forgot.
5. Mammoth Hot Springs Terraces - These terraces are located at the far northwest end of the park and are known for being some of the park's unique geothermic features. There is an upper and lower parking lot, so you don't have to hike the entire boardwalk, but be sure not to miss the beautiful waterfall located at the upper end of the terraces. Also, be on the lookout for wildlife, as the Mammoth area is known for its resident elk populations.
4. Lamar Valley - This valley is the best wildlife viewing area in the park. It's located at the northeast end and may require a side trip but is absolutely worth the extra drive. Besides beautiful vistas, you're almost guaranteed to see herds of buffalo or elk, and, according to Chelsea Cummings, a former Yellowstone Park employee, it is the most common place in the park to see Grizzly bears and wolves. There are also daily wildlife tours to this area that embark from various hotel locations.
3. Fountain Paint Pots - This is a short boardwalk just off the main road between the West Yellowstone entrance and the Old Faithful lodge. It showcases examples of all 4 of the thermal features of the park: fumaroles, geysers, hot springs, and mud pots. It's kid-friendly because of how close you can get to the features and their dynamic beauty, but be sure you keep a tight hold on your little ones' hands. It's dangerous to wander off marked paths.
2. Grand Prismatic Pool - One of the most colorful features of the park, Grand Prismatic is just south of the Fountain Paint Pots. There are two ways to view this geothermic marvel. You can park at a well-marked parking lot and follow the boardwalk until you reach the very edge of the pool and along the way enjoy seeing other geysers and hot springs. The second way is to park farther south at a lot marked "Fairy Falls." Cummings warns that you not be fooled by the seeming unimportance of this little lot because half a mile down the trail you will have a breathtaking bird's eye view of Grand Prismatic.
1.
Old Faithful Geyser - No trip to Yellowstone would be complete without a stop at its most famous thermal feature: Old Faithful. It is aptly named as its eruptions can be accurately predicted within a 10 minute window, and it goes off every 60 to 90 minutes, night and day. A boardwalk with benches surrounds the geyser, giving you a great view and plenty of spectacular photo opportunities.
Though these might be considered the top sights to see during your Yellowstone vacation, don't limit yourself to just these five. There are hundreds of other thermal features, hikes, and vistas throughout the park that should not be missed. And, always be on the lookout for wildlife-bison, in particular, have a disconcerting habit of popping up when you least expect them.