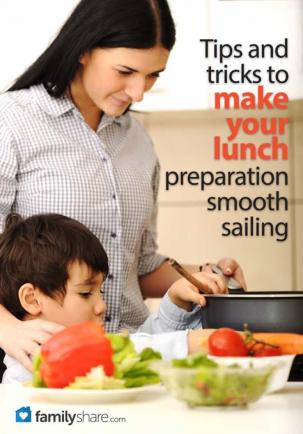 As with most things in life, being prepared can make lunchtime (a somewhat dreaded time around here) a pleasant experience. Wouldn't that be nice? Here are a few tips and tricks to make your lunch preparation smooth sailing:
If you don't mind leftovers, you should make them your new best friend. When I'm making a meal for dinner that I know we love, I double it so we can have leftovers.

Every single one of these open-faced sandwiches looks delicious, simple, and healthy. I'm especially intrigued by the English muffin with spinach, sliced ham, avocado, lemon juice, and salt & pepper.

Are your kids sick of the classic PB&J? Pack one of these, and make one for yourself while you're at it.

Make up a big batch of your favorite soup and freeze it into small portions. When you're in a pinch for lunch, take one out and defrost it in a pan over the stove. It's just as easy as opening a can, but 10 times better.
Follow some (or all) of these steps and before long, you may be looking forward to lunchtime instead of dreading it. Happy lunch making!