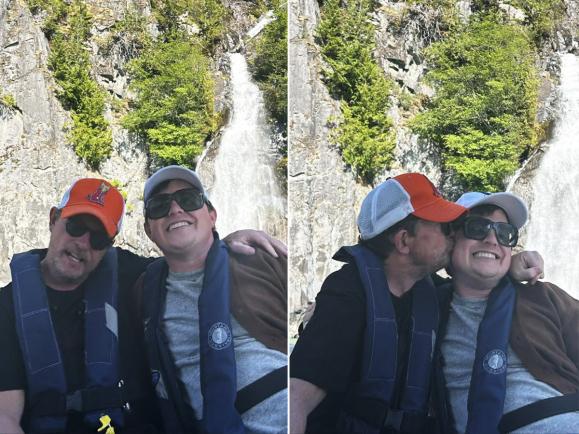 Michael J. Fox recently shared a father-son moment on Instagram for his son's birthday. The 61-year-old actor shared a picture of his son, Sam Fox, blowing out birthday cake candles with photos of the father-son duo in front of a waterfall wearing life jackets.
Fox captioned the post, "Happy Birthday to my big bouncing baby boy @palekidd; you are the best. Proud to be your pops. Love you!" Fox's wife also shared a post wishing Sam a baby birthday. The post included pictures of Sam driving a boat, riding a horse and two photos of the two together.
Fox's wife, Tracy Pollan, wrote, "Happy birthday to the absolute best son ever. You fill my life with so much joy, humor, kindness, and random information that I never knew! I love you!" The "Back to the Future" star recently reflected on mortality as he lives with Parkinson's, an incurable disease.
Fox was diagnosed with the disease in 1991 when he was 29. He revealed during an appearance on "CBS Sunday Morning," "You don't die from Parkinson's. You die with Parkinson's. I've been thinking about the mortality of it. I'm not going to be 80. I'm not going to be 80." Fox also discussed his challenges while living with the disease.
He admitted, "My life is set up so I can pack Parkinson's along with me if I have to. Parkinson's banging on the door; I'm not going to lie, it's getting hard. It's getting harder. It's getting tougher. Every day, it's tougher; that's the way it is. I mean, you know, who do I see about that?" In his new documentary "Still," viewers will learn that his tremors from Parkinson's have been visible, but he's also in a lot of pain.
View this post on Instagram
In the movie, he says, "I'm in intense pain. Each tremor is like a seismic jolt." In a New York Times interview, Fox elaborated, "It's not so much pain from the movement, but from the not moving. It's when you freeze, and in that freezing, that not-movement becomes infused with all this energy, and it becomes this burning, impending thing that never happens."
Fox continued, "I don't want to get the violins out. I've broken my hand, my elbow, my humerus, my other humerus, my shoulder, my face and some other s--- too. And all that stuff is amplified by the electricity of the tremors. So, yes, it hurts a lot. But what you learn is that nobody gives a s---. It's just life. It doesn't matter. You suck it up, and you move on. And there might be a story to tell in it. But only that. There's no chit you can present to a window for a refund."
Unfortunately, Parkison's disease caused Michael J. Fox to face his mortality sooner than others. However, seeing that he's spending time with his family and celebrating his son's birthday is uplifting. There's no doubt that coming to terms with your mortality must be challenging. However, all we can do is take things one day at a time until our time comes.