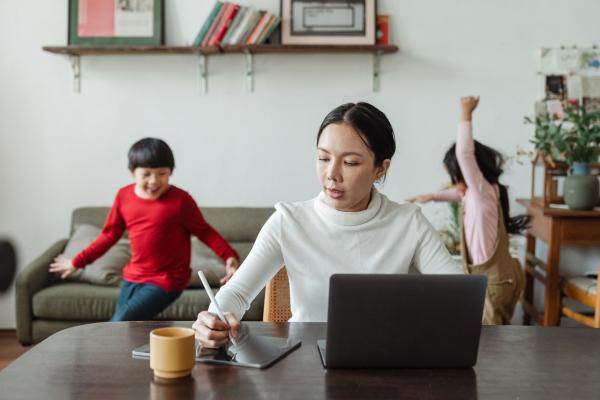 A new study ranks the best and worst states for working moms.
The U.S. economy is continuing to strengthen, with record-low unemployment rates and rising wages. For working mothers, this is good news – but some states offer far more family-friendly environments than others. In its annual report on the best and worst states for working moms, the personal-finance website WalletHub looked at key indicators like professional opportunities and child care to come up with its rankings.
Working moms often get a lot of flak for not being able to balance work and motherhood perfectly, which is somewhat due to their surrounding environment and support system. While it's admittedly difficult to be a working mom, it's not impossible. Mothers account for nearly half of the workforce in the U.S., so it's clear to see there's a long way to go before the playing field is equal.
Drumroll, please....
The best state for working moms is Massachusetts, which ranked first overall. Massachusetts had a score of 22 when it came to career opportunities but was number one for a work-life balance. The worst state for working moms is Louisiana, which ranked 51st overall and certainly lacking in career opportunities and childcare for women. Use the interactive map below to see where your state measures up.
So what can you do if your state is on the lower end of the scale? Since you cannot control the professional opportunities around you, start with something, you can control.
Create a Routine
One of the best ways to manage your time as a working mom is to create a routine and stick to it. This includes creating schedules for both work and home life and being as disciplined as possible when it comes to sticking to them. Of course, there will always be some flexibility required, but having a routine in place will help eliminate some of the stress and chaos that often comes with trying to balance work and family life. Try to schedule your work around your child's nap and bedtime schedules. This will help make things a little bit easier for you.
Create Special Moments
Even though life can be busy, you should still make time for special moments with your child. Go for a walk together, read a book, or just have a conversation. These small moments will help strengthen your relationship and create memories that will last a lifetime. We often forget that the greatest treasures in life are the little moments we get to share with the people we love.
Delegate and Ask For Help
Working moms often feel like they have to do everything themselves, but this is not actually the case. If there are things that can be delegated or outsourced, then do so. And if there are people in your life who are willing and able to help, then don't be afraid to ask for their assistance. Asking for help is never a sign of weakness. It takes courage to admit that you need help, and it takes strength to ask for it. When you do ask for help, be sure to clearly communicate what kind of help you need. Let the person know what you're hoping they can do to help you out. Thank them in advance for any assistance they may provide.
Take Breaks
Staying at the top of your A-game means putting your mental health first. Working all day without any breaks can be extremely draining, both mentally and physically. By taking breaks throughout the day, you'll allow yourself time to recharge and come back to your work with fresh eyes. Breaks are important for everyone, but especially for working moms. When you take time out for yourself – whether that means taking a relaxing bath, reading your favorite book, or going for a walk outside – you'll come back to your work refreshed and invigorated.
Lean on Your Support System
Your support system can be made up of family, friends, or a babysitting co-op. These people can help you out when you're overwhelmed or need an extra hand. Childcare is expensive and hard to find. When childcare is lacking in your city you have to rely on your support group. The phrase 'it takes a village' to raise kids is quite literal because sometimes you need help. Be honest with your support pod– most people are more than happy to lend a hand.
Define Your Priorities
Take a step back and figure out what's really important to you. There are only so many hours in the day, so it's important to focus on the things that are truly important to you and cut out the distractions.. Maybe you need to cut back on your work hours so you can spend more time with your family. Or maybe you need to stop volunteering for every committee at church. Reevaluate what's important to you and make changes so that your priorities reflect that.
Once you have your work and life balanced, it's easier to manage everything else. Working moms know that their time is precious and there's not always enough of it. Learning how to manage your time well will help you get the most out of every day, even when it seems like there's not enough time to get everything done.
As far as career opportunities go, when you can't find something local, try looking for remote opportunities. The pandemic created a massive shift to virtual work, which may be more ideal for mothers. The remote work trend is on the rise, and with good reason. According to a FlexJobs survey, 77 percent of workers would prefer to work from home than in an office. This number jumps to 87 percent for millennials. There are endless opportunities for mothers looking to telecommute. The remote job market is growing rapidly, and many different positions can be done from home. From freelance writing to web development, there are plenty of opportunities for mothers looking for a career change or a way to make money from home.
Being a mother is never a walk in the park. Sometimes you just have to figure out what works best for you and your family.