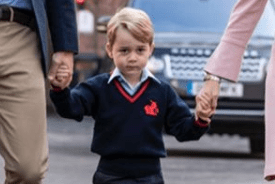 Four-year-old Prince George recently started school, and the pictures are nothing short of absolutely adorable. They show his dad dropping him off at Thomas's prep school in Battersea, London. It's fun to picture Prince George becoming best friends with a classmate, but according to the school's policy, that won't be happening.
He can't have one best friend
According to Harper's Bazaar, Jane Moore revealed that the school "has a policy which discourages children to have a singular best friend."
She said, "There are signs everywhere saying 'be kind' — that's the ethos of the school ... They don't encourage you to have best friends."
It encourages inclusivity
The idea actually makes a lot of sense, and I remember my own mom strongly discouraging me from calling one person my "best friend." I grew up with a lot of best friends, and inclusivity was second nature.
This school is teaching children to include and accept everyone, and to be kind no matter what. They don't want children to feel left out, and this rule applies inside and outside of the classroom.
Moore said, "There's a policy that if our child is having a party — unless every child is invited — you don't give out the invites in class ... I think [it] is quite a good thing as you don't feel excluded."
This isn't the only extreme rule the prince follows
Over the summer, Kate Middleton was in the media for not letting her children play with a very popular item — an iPad. A source told Us Weekly, "As two people who grew up without gadgets for entertainment themselves, William and Kate are firm believers in toys, outdoor play and encouraging an active imagination.
While many parents praised the royal family for their decision, others seriously criticized them for the extreme rule.
Prince George will probably have many best friends
Although Prince George will likely never experience the fun of having a best friend, he'll have the opportunity to make lots of lifelong friends — which is just as fun.
What do you think — is this school's policy extreme, or should everyone adopt their guidelines on friendship?