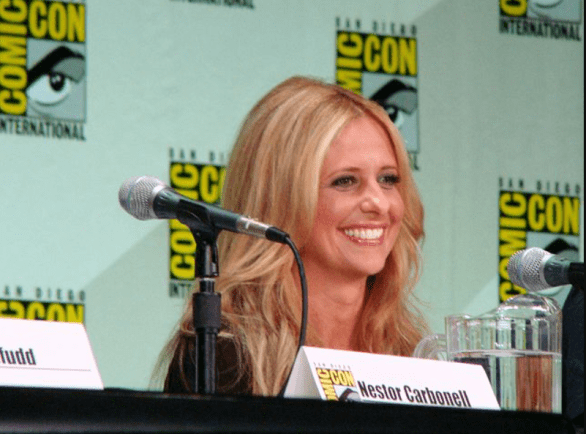 The things you post online tend to follow you forever. So it makes sense that Sarah Michelle Gellar wants to stop her kids from being haunted by the ghosts of their TikTok pasts. Gellar recently told Yahoo that she and her husband don't let their kids have social media accounts or let them look at social media platforms.
Gellar told Yahoo, "Our rules are probably stricter than most. Our kids don't have social media. They're allowed to look sometimes when it's our phones. Sometimes, our kids will be like, 'You guys are the strictest household!' But I say, 'Yes, but everyone still wants to come here!'"
Then, to drive home the idea of permanence online, Gellar told her daughter Charlotte and son Rocky that kids posting on social media are like getting a "Paw Patrol" tattoo on your face at five years old. Gellar told her children, "Because, at that age, there's nothing better than 'Paw Patrol.' And now, you're 10 and [13], and you still have these tattoos on your face, and it's not even who you are anymore. That's a very hard concept for young kids to grasp."
Still, Gellar doesn't have a problem enforcing rules with her family. Gellar said, "I believe kids need to know what their limitations are, and they actually thrive in that environment. We're not mean, and we're not unnecessarily strict, but we have rules. And the same way I abide by my code of rules, I expect the same from our children."
Gellar is familiar with how a social media post can go wrong. In 2018, the "Buffy the Vampire Slayer" actress apologized when she posted photos of herself in lingerie on Instagram. Gellar meant for the images to serve as a reminder not to overeat on Thanksgiving. Gellar admitted that she was trying to be funny, but some felt that she was promoting fat shaming and diet culture, which could trigger people with eating disorders.
Gellar and her husband, Freddie Prinze Jr., celebrated a significant milestone in September: their 20th wedding anniversary. On their anniversary, Gellar called out Howard Stern for his comments 20 years ago. Stern bet Prinze that the marriage wouldn't make it to 10 years. In an Instagram story, Gellar reminded Stern about the bet, saying, "I think you owe us." However, Gellar says she hasn't heard anything from Stern, saying, "The ball is in his court. It just made me laugh."
Regarding parenting and marriage, Gellar isn't one for regrets. She says, "I don't think you can actually look back and say, 'I wish there were things I knew.' Life was different, and you're a different person at different ages," she says. "I think the most important thing is to try to grow together and communicate and put the work in. That goes for relationships, friendships, and parenting. It's work. You have to be willing to do that."
Gellar's rules aren't anything new. Many parents limit their children's time on social media due to its harmful effects. When it comes to your children, you must follow your gut and do what's right for them.