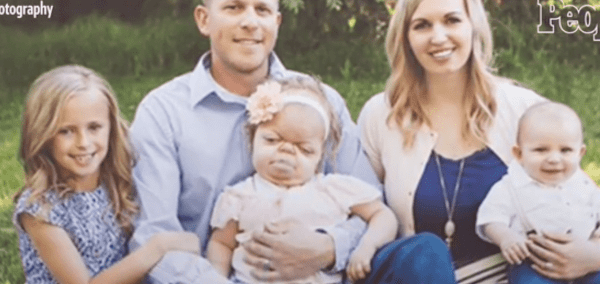 A young Utah girl continues to defy the odds, living even though doctors said she wouldn't celebrate her first birthday.
Brielle Burr, who is now 4 years old, was born with Beare Stevenson syndrome, which causes premature fusing of the skull. Only about 20 people have the disease worldwide, with most babies dying by the age of 1, according to the National Institute of Health.
Doctors said she'd only have a few months to live, according to People magazine.
But four years have since passed, and Burr just celebrated her fourth birthday.
"We hope to continue beating the odds," Candace Burr, her mother, told People magazine. "In spite of all her challenges, Brielle has shown feistiness and spirit from the very beginning. Her positive attitude helps everyone who meets her to realize that they have nothing to be negative about."
Candace Burr said she had a tough time planning her daughter's future, too, because she never knew how long her baby would live.
"I never bought Christmas presents too early and I didn't plan a Halloween costume for Brielle too soon," she told People, "because it was difficult to think of her not being there for those things. But now, I've finally decided that's just no way to live, so we absolutely plan the future with Brielle in it. She's a fighter and we're not going to give up on her."
Now, Brielle and her older sister, Kaya, celebrate Halloween too by dressing up in matching costumes every year, according to People magazine.
Candace Burr said the sisters dressed as Elsa and Anna from "Frozen," as well as Ariele and Flounder from "The Little Mermaid."
The sisters are still planning this year's outfit.
"Every day is a gift, but she's 4 now," Candace Burr told People, "and we never thought we'd be here. Who's to say we can't double that this year?"
The couple started a Facebook page called Brielle's Story, where the family will post videos and photos that honor their daughter.
In 2015, the couple hosted a Easter egg hunt to raise money for their daughter, according to KSL.
People donated to the family to help them take care of their daughter.
"She's really the sweetest thing," Brielle's aunt Cynthia Burr said. "She's just an angel."