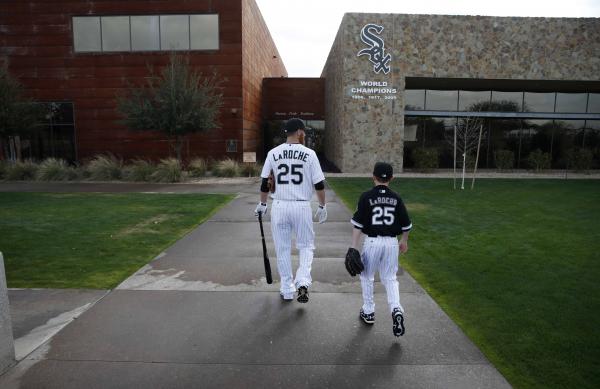 Adam LaRoche's baseball career just took a wild turn because he put family first.
The 36-year-old baseball player left a $13 million contract behind with the Chicago White Sox after the team's executive vice president asked him to keep his son's time in the locker room and bench to a minimum, according to CBS.
LaRoche, contrary to his team's desires, decided to quit.
It's a relatively surprising move for both LaRoche and the White Sox, since LaRoche's 14-year-old Drake LaRoche has been in the locker rooms and on the fields of the MLB for years, following his father to every team he goes to.
"My friends think it's like, really cool and everything, but I just think it's normal, 'cuz I've been doing it every single year since I've been a baby," Drake said in 2014, according to CBS.
But not everyone supports LaRoche's decision to quit.
"Tell me where in America you can bring your child to work every day," White Sox Executive Vice President Kenny Williams told USA Today Sports. "And how can you manage it? How can you manage the next guy. And the next guy. That's not fair."
In fact, USA Today's Bob Nightengale wrote on Wednesday that LaRoche shouldn't have expected his teams to always allow his child on the bench. A young boy can cause disruption in the locker room, in more ways than just poor behavior.
Nightengale wrote that players felt they had to be careful of swearing around Drake, or be mindful of what topics they spoke about because those topics might not be appropriate for Drake to hear.
"Yet with a child in the clubhouse, not every White Sox player was comfortable. You have to watch your language, which can be awfully difficult in the baseball environment," he wrote. "You need to refrain from talking about private escapades, or family trouble, you would never want a child to hear."
In fact, Williams and the White Sox aren't the first to make such a rule. Bobby Cox of Atlanta Braves fame also banned children from the clubhouse, according to Nightengale.
"The issue becomes a little greater," Williams said, "because if I allow it here, and the next guy brings his son along to the level it was allowed in this case, how do I say, 'No,' to the next person? And the next person? How do you manage that?" Williams asked. "So I decided to cut it back, not eliminate it. We will continue to have a kid-friendly environment and kids around the complex. And I will still take kids out of the stands sometimes before a game while everyone is on the field, take them to clubhouse, and give them the thrill of a young person's life to be in a major league clubhouse."
But Nightengale acknowledged that there are players who include their children in the locker room and the clubhouse, just not every day like LaRoche did.
For example, Detroit Tigers' Victor Martinez brings his son with him into the dugout, according to MLB. The now 11-year-old boy marvels at his father, who's been known to smack a home run or two. He's grown up around the game, following his father from Cleveland to Boston and now to Detroit.
"He loves to come out to the ballpark and hang out with the guys. He just loves it," Martinez told MLB in 2011. "He can go through the whole lineup and do everything — imitate every guy here."
Bringing children into the dugout is actually a major issue for major leaguers. According to Fox Sports, teams have wrestled with the idea over the years, since players struggle with being a parent and a ball player all at once.
"It is a different lifestyle," according to Fox Sports. "And as many players will attest, the issue is not as simple as, 'Leave your kid at home.'"
It's even harder because the baseball dugout isn't always a great place to raise a child.
For example, in 2011, the Boston Red Sox were caught in a scandal over having beer, fried chicken and inappropriate behavior in the locker room. A few years later, the team held a meeting to discuss new guidelines about children in the dugout and clubhouse.
The meeting mostly focused on making sure children would be safe, since the dugout puts them close to danger, Fox Sports reported. One player told Fox Sports the new guidelines required the Red Sox to limit children's access to the team.
"We just had to clear them out before (pregame) stretch," the player said. "There were too many kids in the outfield while the players were trying to get their work in."
But to accommodate the children, and the players who may not have the chance to find a babysitter for their younglings, the Red Sox created a "family room," which includes full-time childcare, food and even school tutors, according to the New England Sports Network.
"Red Sox players spend a lot of time at Fenway Park, and their home away from home also features a nice area for their families," NESN reported.
This room gives children a chance to learn and find care even when their dads are on the road all year and unable to take care of their children.
That's something LaRoche may have liked for the White Sox clubhouse.
After all, LaRoche said he hoped his son would get a childhood much like his own. The former White Sox star spent most of his childhood on the bench and in the dugout with his dad. Because even though his father had a busy schedule, he could still spend time with him, Fox Sports reported.