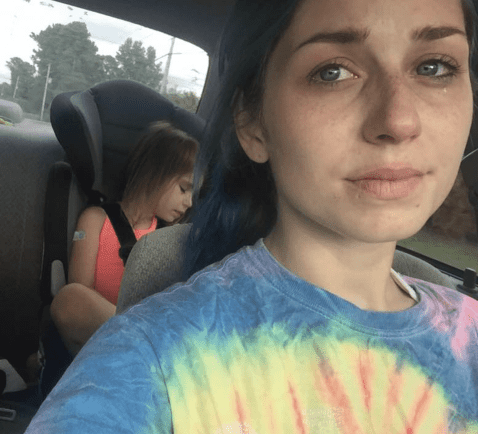 This article contains affiliate links. These are books we sincerely believe our FamilyShare viewers will enjoy, but just so you know, FamilyShare does get a small portion of the purchase (with no extra cost to you.)
"As I stood in the customer service line of Walmart to cash my paycheck with a cart of groceries (and some wine), Sophie sat/stood/did heads stands in the cart, whining over a bag of chips I took away and because she called me a butthole in line."
So writes Taylor Myers, mom to Sophie, a four-year-old girl with ADHD. Myer's viral Facebook post expressed her heartache of dealing with not only a tantrumy child, but a rude stranger behind her in line who told her to "give her a cookie so she'll shut up!"
I've walked out of stores hundreds of times because of her. Almost every time, actually, I end up leaving with nothing I came for and a tantrum having four year [old] attached to my hand and a baby on my hip, but this time I had to stick it out to get the groceries.
Many moms - especially moms who parent a child with ADHD - have been there.
Fortunately for Myers, a different woman in the store came up and talked kindly to Sophie while Myers checked out, asking her questions, telling her to be kind to her mom. It was one small act of kindness that Myers said comforted and validated her.
But most of the time, moms don't have that support. Parenting can be a hard, lonely business sometimes, for both moms and dads.
We spoke to Ella*, a mom of three who has been there. Her oldest son has ADHD and anxiety. She's lived (and cried) through the trenches of heartbreak, yelling and trying to figure out what works for her child.
If you're a parent who's in that moment now, these are some of the things that have made a big difference for parenting her son with ADHD.
1. Take a free parenting class
Many school districts offer classes for parenting a child with ADHD.
"That has really helped my perspective and ability to be more patient and understanding," Ella told FamilyShare.
If nothing else, a class can provide a support system for parents going through similar heartaches.
2. Experiment with different rewards and discipline systems
If a certain system isn't working for you, it's OK. You just might need to rotate and evaluate your approach.
"Reward systems have been hard for us, because something seems like it will work really well, but then it won't last," Ella said. "Seems like [it will work] only a few days and then he doesn't care anymore. So we'll need to change things up a bit."
3. Give more positive reinforcement than negative
"Positive reinforcement is probably one of the best things we can do for [my son] ... There is a 4:1 ratio. For every negative comment you make, you should make at least 4 positive ones. Keeping this in mind has really helped."
4. Remember, it's hard on your baby too
This mental disorder doesn't just grate on your nerves - it wears your little tyke out too.
"Yelling at him, as much as I try not to, really doesn't help," Ella explained. "ADHD is really hard on him and causes him to be hard on himself, which isn't good for his self-esteem, so boosting that and his confidence are really important."
5. Recognize the unexpected side effects
Are there some things you just can't explain about your child? It's possible these are little side effects that come with ADHD, and being able to label them as such is helpful for some moms.
Often depression and anxiety are linked to ADHD. One mother said she believes her child's difficulties going to the bathroom and even dental problems are connected to ADHD.
6. Go to a child psychologist and a therapist
The American Academy of Pediatrics recommend children 2-5 go to a behavioral therapist before trying medication. Psychologists and therapists are usually useful for both your child AND you.
7. Try medication
Although controversial, medication can be effective for some children. A study by the National Institute of Mental Health discovered that the combination of both medication and behavioral therapy had significant advantages over just one or the other.
8. Do your reading
Books on parenting in general or about ADHD will increase your understanding of what's happening to your child. These were some of the recommended books (and it's enough to keep you going for a while):
"Boy Without Instructions" by Penny Williams
Buy it on Amazon for $14.95
"No-Drama Discipline" by Seigel and Bryson
Buy it on Amazon for $10.87
"Peaceful Parent, Happy Kids" by Dr. Laura Markham
Buy it on Amazon for $10.87
"Parenting with Love and Logic" by Cline and Fay
Buy it on Amazon for $12.66
"The Explosive Child" by Ross W. Greene
Buy it on Amazon for $9.99
"Smart but Scattered" by Dawson and Guare
Buy it on Amazon for $14.12
9. Get down on your knees
"I can't tell you about all the things that we've done that have helped without mentioning the Heavenly help we've received," Ella said. "Quite honestly, we have done a lot of crying, a lot of trying to figure out how to work as a family and a team to support to him, and A LOT of praying and fasting. I honestly feel like Heavenly Father has helped us so much."
10. Remember, you're growing along the way
So many things you try may fail, so many days may be agonizing, but even the absolute best of parents struggle. You will make mistakes, and that's OK.
"We went on a lot of goose chases ... to get where we are. A lot of trial and error. A lot of walking into the unknown. And a lot of heartache," Ella concludes. "I'm still recovering from [some] painful situations. If I knew now what I knew then things would have been very different. But that's life."
So for Ella, and for all mothers fighting the daily battles, keep trying, mama. You're getting better everyday.
*name has been changed for privacy reasons.