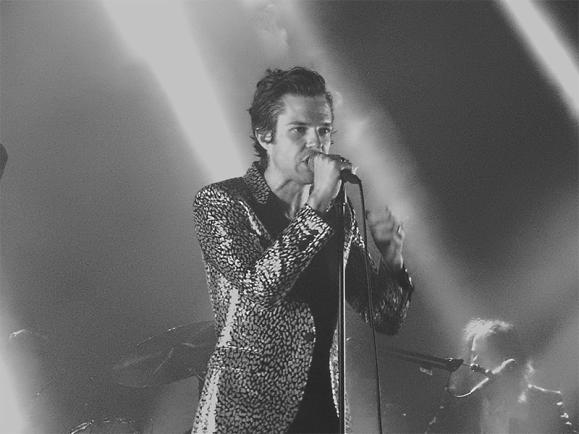 Brandon Flowers is an American musician, singer, songwriter, and philanthropist, best known as the lead singer and keyboardist of the Las Vegas-based rock band The Killers. In addition to his work with The Killers, Flowers has released two solo albums, Flamingo and The Desired Effect, reaching number one on the UK Albums Chart nine times and the Billboard 200 once, including work with The Killers.
Early Life and Career
Brandon Richard Flowers, the youngest of six children, was born on June 21, 1981, in the Las Vegas suburb of Henderson, Nevada. He has one older brother and four older sisters. His family lived in Henderson until Flowers was 8-years-old when they moved to Payson, Utah, for two years before moving to Nephi, Utah, when he was in middle school.
When Flowers was five years old, the family joined The Church of Jesus Christ of Latter-day Saints. Though Flowers once wavered in following the teachings of the Church, mainly the health laws, or "Word of Wisdom," he has said in his early 2000 interviews that his faith is becoming more and more important to him. For example, in an interview with Jonathan Ross on May 29, 2009, Flowers stated that he grew up and chose to be a member of The Church of Jesus Christ of Latter-day Saints. He also stated that he had not used alcohol for a very long time, per Church practices. In an interview with CBS News, Flowers said, "I don't go to church because I got nothing better to do on Sundays; I really believe it! I don't know what my life would be like without it. I think I would have been a casualty of rock 'n' roll."
Flowers lived in Nephi until his junior year at Juab High School, when in 1997, at 16, he moved back to Las Vegas to live with his aunt. He graduated from Chaparral High School in 1999. Flowers said that growing up in Las Vegas as a member of The Church of Jesus Christ of Latter-day Saints helped prepare him for the world of rock and roll, saying, "Really, being a Mormon in Las Vegas prepared me for the lion's den. It is a sin city. The things that go on, the lights, it's the ultimate rock and roll stage. Without Las Vegas, I would be a wreck."
Flowers responded to an ad that Dave Keuning placed in the Las Vegas Weekly in late 2001, after which point they became The Killers. After several short-lived bassists and drummers, Flowers and Keuning were joined by bassist Mark Stoermer and drummer Ronnie Vannucci, and the line-up became official in August 2002. Between 2003 and 2017, they released five consecutive chart-topping studio albums and have sold over 22 million records worldwide. The Killers are among those artists who have spent more than 1,000 weeks on the UK music charts during their careers.
Flowers wrote the lyrics to the single "All These Things That I've Done" and its popular refrain "I Got Soul, But I'm Not A Soldier" that numbered among the "100 Greatest Songs of All Time" by The Daily Telegraph and earned one of the band's seven Grammy nominations. He is also the author of the lyrics of the single "Mr. Brightside," which holds the record for most weeks spent on the UK Singles Chart.
Their second album, Sam's Town, paid homage to Flowers' hometown and family, earned their first BRIT Awards for Best International Album and Group, and included the chart-topping single "When You Were Young." Before releasing their first Billboard 200 No.1 album, Wonderful Wonderful (2017), and the chart-topping single "The Man," the band took a one-year hiatus. Flowers released his second and most favorably reviewed solo album to that date. On July 4, 2010, the Killers headlined the "Salute to the Military" USO Concert at the White House. They performed "God Bless America" and favorites from their catalog. On June 22, 2013, the Killers headlined the 90,000-capacity Wembley Stadium, their biggest solo show to date.
Religion and Marriage
Flowers and his wife, Tana Mundkowsky, met at the Buffalo Exchange thrift store in Las Vegas in 2001. He was 21, and she was 20. Brandon and his fellow singer Dave had gone to the store to acquire supplies for the band's first show. Flowers saw a young lady in a pink trench coat and a bootleg Joy Division t-shirt with Mickey Mouse on it.
Tana's outfit immediately drew Brandon's eye, and it occurred to him that the lady was way cooler than him, giving him the idea that she must be a lot of fun to hang out with. During this time, both exchanged their numbers, and later that night, Flowers called her. They went on their first date to an all-night record store where they discussed various musicians such as David Bowie, The Smiths, Leonard Cohen, and others.
The couple married in a private ceremony in Hawaii in August 2005. Dave, Mark, and Ronnie from The Killers were among the few others in attendance. Shortly after their wedding, the couple moved into their new residence in Henderson, Nevada, just 10 miles from the Las Vegas strip. They later purchased their home in Park City, Utah's Snowy Slopes, where they currently live with their three children. Tana has been dealing with complex Post-Traumatic Stress Disorder. Flowers even skipped some live shows in 2015 to be with her because she had suicidal thoughts. He's written songs in her honor and has spoken about his wife Tana's struggle in several of his songs, including "Some Kind of Love."
Religion and Family
In a promotional video for The Church of Jesus Christ of Latter-day Saints, Flowers talked about a connotation of negativity surrounding rock music. Yet, he didn't fall into that trap because his mother took him to church as a child. He talked about how it isn't normal for someone in his industry to have a wife and children, but his parents were married for 44 years, which he wants for himself. Flowers also talked about moving away from touring because he doesn't want to be away from his family. Flowers talks about how he knows many people who have moved away from the church at the end of the video. However, he's still very much part of it because he was raised in it, and "there's still a fire burning in there."
In a 2017 Rolling Stones interview, Flowers spoke briefly on the Church's perceived cloud of ambiguity. Flowers said, "There's this kind of weird mystery around it. With Christianity, you have 2,000 years of separation from when the events took place and these supposed miracles. We don't have that much separation from Joseph Smith in the 1800s, and the other events that we believe took place, so it's much easier to hone in on it. People that knew Moses didn't keep journals, but we actually have that information."
Flowers joined  Dr. Patrick Mason, a professor of religious studies at Utah State University, on his podcast, "The Foyer." He says after the band's first album, he struggled with his faith and drifted away from it. He was worried that he would fall into the negative influences of rock and roll.
Flowers constantly questioned the need for higher power and explained that his journey back to The Church lifestyle began in the lyrics of their first album. In the song "All These Things I've Done," Flowers sings: "I've got soul, but I'm not a soldier." He said, "I recognized that I was starting to go somewhere I was told not to, and I still believed there was goodness in me. I started asking for help. You start to hear that more on the second record, 'Sam's Town.'"
Today, Flowers is a devoted member of The Church of Jesus Christ of Latter-day Saints. He writes his music for all in the hope that listeners understand that nobody is perfect and everyone can be forgiven. After all, it must work; The Killers' most recent album, "Imploding the Mirage," was ranked the best rock album of 2020 in the United States on Billboard's Top 100. "Imploding the Mirage" has several references to the New Testament and the Church, including the front cover, which pictures two heavenly beings. While Flowers shows them as the Heavenly Father and Heavenly Mother, he also sees the two as representing him and his wife.
Brandon Flowers grew up in the Church and is still a part of it. He tried to walk away from it during his early days of fame but eventually felt the pull to come back. Family is a huge part of Flowers' life. He enjoys being a father and watching his kids grow up while also following his rock and roll dreams.