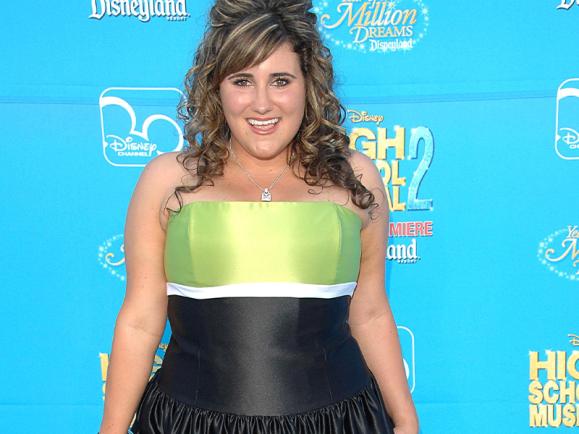 KayCee Stroh is an American actress, singer, and dancer known for her appearance in the High School Musical franchise. She was also a contestant in the VH1 reality series Celebrity Fit Club.
Early Life and Career.
On May 29, 1984, KayCee Stroh was born in Salt Lake City, Utah, to Cindy and Bruce Stroh. She has two older sisters who were also dancers. In an interview with People, Stroh talked about being bedridden for three months after a blood clot in her calf after knee surgery and how she dealt with obesity and weight gain.
Stroh is most commonly recognized as the Martha Cox from the High School Musical trilogy. She also appeared in the popular Disney show The Suite Life of Zach and Cody and later was a contestant on the Celebrity Fit Club. Stroh has also been a guest editor for Tiger Beat magazine. She was also a member of the supporting cast in a direct-to-DVD musical story from Liken the Scriptures called Ammon and King Lamoni.
Stroh did not start her life wanting to be an actress. Instead, she began with dancing. After High School Musical 3 wrapped up, KayCee hasn't appeared in much.  She made a cameo appearance in The Hannah Montana Movie and was also in an episode of the League. Since her movie days, she has spent her life focusing on her family.
When Stroh first started her career in the entertainment industry, she was an inactive member of The Church of Jesus Christ of Latter-day Saints. "It didn't take long before I realized that some of the things that were social norms were not normal and not how I wanted to live or raise my future children," she said. She was afraid at first of the way the industry and her peers would react to her lifestyle choices, which are very different from the typical Hollywood attitude.
She said it wasn't long before people asked her questions, and she often found herself surprised at their respect for her choices. Stroh has enjoyed being around all types of people from all walks of life and religions while in L.A. and believes it's important to be non-judgmental to those who may believe in different things.
Marriage and Religion.
KayCee married her boyfriend, Ben Higginson, in January of 2009.  They were married in the Salt Lake Temple. After the temple sealing, they had a ring ceremony. Zac Efron, Vanessa Hudgens, Ashley Tisdale, Lucas Grabeel, Monique Coleman, Olesya Rulin, Chris Warren Jr., Ryne Sanborn, and Kenny Ortega all attended the ring ceremony and reception. KayCee and Ben have two little girls, Zetta Lee, born May 8, 2013, and Lettie Louise, born October 15, 2015. Stroh and her family decided to move from Los Angeles to Utah in 2014, figuring that the family would have a better quality of life in Utah. It's also a quick plane ride to Los Angeles if she needs to go to work.
Religion and Parenting.
In 2014, Stroh and her family attended the Ogden Temple open house in Utah. At the open house, Stroh shared how she was happy to share this moment with her daughter, saying, "It was very exciting to be in the temple with our sweet daughter. We have tried to instill a sense of respect for the temple in her from a very early age, but nothing quite does that, like actually physically feeling how truly wonderful it is within those walls. We sing 'I love to see the temple' to her every night before bed, and when she saw the building from the outside, she pointed at it, and her eyes lit up!"
At the Ogden temple dedication, Stroh also shared how it's essential to teach your children to be non-judgmental when it comes to people practicing other religions. Stroh shared, "They don't need to be just like me for me to love them or appreciate their company. I will just do what I do and lead by example for those that want to follow. We need to teach our children, especially here in Utah, that kind of love and respect for others of different backgrounds and faiths."
Religion's Impact on Stroh.
Stroh also shared that she jumps at the opportunity to see the inside of a temple before it is dedicated. She shared, "It's challenging in our busy lives to make it to the temple, let alone to travel to distant temples. A full session in the temple takes a good amount of time and preparation, so when you are allowed to feel the spirit and see the beauty of a new temple with your family, I think it's a great choice for members and non-members alike."
Stroh has had the opportunity to speak at LDS firesides, where she often shares her love for the temple. "Whenever I speak or give firesides, I often end by saying this, 'I have been blessed to do some very incredible things in my short lifetime but achieving my goal of being married in the temple and having a temple recommend is one of my proudest accomplishments!'"
Stroh said that the temple offers peace and solace in an otherwise crazy world. "I can't tell you how many times Ben and I have felt confused or troubled, and just a little trip to the temple has turned everything around," she said. "So many prayers have been answered for us within those sacred walls." Since her High School Musical days, Stroh also appeared in the Disney+ series, High School Musical: The Musical: The Series. She is continuing to be a dancer, singer, and model. She focuses her work on being a self-esteem advocate for women. KayCee has become a strong advocate for Make-A-Wish Foundation, United Cerebral Palsy, and Starlight Starbright Children's Foundation.
Besides acting and being a mom, Stroh is also a motivational speaker, fitness enthusiast, and TikTok enthusiast. At the start of the COVID-19 pandemic, Stroh began posting dance fitness videos and created a vast online TikTok following. Her moves are impressive, her bubbly energy contagious, and she's finding a whole new generation of fans and fellow creators. According to Stroh, TikTok isn't just for teenagers, and parents need to listen up and embrace the future when it comes to marketing and making it in the entertainment industry.