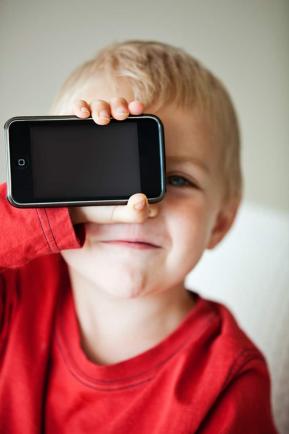 Parents of elementary school children have a different sort of busy schedule than they did prior to their kids entering school. Previously, they were busy wiping up messes, changing diapers, running after staggering toddlers and picking dangerous things out of their baby's mouth. Elementary school, on the other hand, means helping kids catch the bus, becoming a homework tutor, cheering at sporting events and attending musical performances. It's tough to keep up with everything, which is why parents should look into some of the newest and brightest smartphone, iPad and tablet apps made just for them.
Artkive - Free (iPad, iPhone, Android)
Being a parent of an elementary school child automatically makes you an amateur art curator. For years into the future, your child will come home with all sorts of creative masterpieces. Though you'd like to frame each and every one and save them forever, it just isn't possible. Artkive, however, allows you not only to save copies of those early pieces of artwork, you can also print out books your children, and their children, will enjoy viewing for years to come. You simply take a picture of the art, tag it with the child's name, grade, date, and its title. Once you have enough saved up, you can print off a professionally bound book that fits neatly on a bookshelf.
iHomeopathy - $3.99 (iPad, iPhone, Android)
One downside of children attending school is all the new germs, flu bugs, and viruses they come in contact with on a daily basis, not to mention the opportunity for injury at recess on the blacktop or the jungle gym. iHomeopathy helps prepare moms for the worst by providing descriptions of injury or illness symptoms and how to treat them using homeopathic remedies.
Family Matters - $1.99 (iPad, iPhone, Android)
Your kids are now old enough to interact with you in more meaningful ways than when they were babies, but they can also become distracted, bored and hard to keep track of in crowded places. That's why developers came up with Family Matters: An app that has questions and activities tailored for several possible circumstances, including road trips, sitting at a restaurant, waiting in a doctor's office or standing in line. Some of the questions are fun and silly, and others might prompt your first meaningful conversations with your child.
Bank of Mom - $1.99 (iPad, iPhone, Android)
Teach your kids about money and finances early with this virtual banking app. It allows you to set up "accounts" for each of your children to indicate how much allowance money they have earned. If they ask for some money, you can deduct it from their account with a note about how they spent it. It also tracks how long they've had the account and whether they're saving up for something. A similar app is Chore Bank ($1.99). This allows you to set up accounts and designate a certain dollar amount for each household chore. It also allows you to set an interest rate so they can learn the benefits of saving money.
iFood Assistant - Free (iPad, iPhone, Android)
When children are tiny, their dietary needs are easy to meet with a few small bottles of pre-made baby food. However, as they get older, their requirements change, and you could end up with some picky eaters on your hands. Help encourage them to enjoy eating healthy food with this app that delivers a different dinner recipe every day. The ingredients are simple. It tells you how long prep and cooking takes and provides a grocery list to make shopping easy.
The years your children spend in elementary school are sweet and fleeting. Enjoy them while you can, because soon these will be the days you look back on with fond remembrances. You can expand your enjoyment of these years by helping yourself out with these revolutionary apps our parents only dreamed of when we were young.
Click here for 5 incredibly addictive apps for bored kids and long waits.