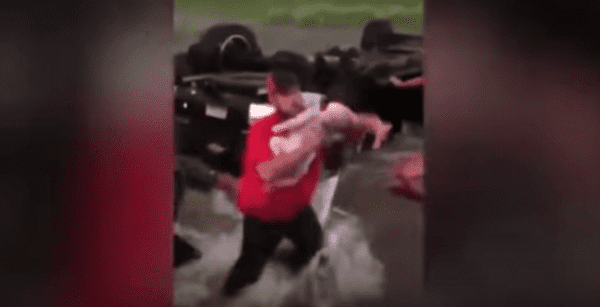 A car horn blares unendingly. Heavy rain falls onto a flooded road. In the midst of it all, a truck is upside down with all its passengers trapped inside.
This is the scene Tom Mitchell came upon when driving through a severe storm in Texas. What he caught on his phone camera went viral with over 29 million views on Facebook (warning: video contains foul language).
Helplessly pinned inside
It's a mother's worst nightmare - an unimaginable sense of urgency seeing her babies close to death, but being helpless to save them.
Emily and Phillip Ocheltree and their two kids - a toddler and an infant - were helplessly trapped inside their overturned truck as unforgiving torrents of water gushed around the doors.
As the babies lay limp underneath the metal wreck, Emily saw no way to escape their unimaginable situation. But it's what she couldn't see that saved them.
Saving grace of good Samaritans
Outside the truck, a modern-day good Samaritan story was unfolding, as well as being filmed by Mitchell. When coming up to the flipped vehicle, several strangers joined together to attempt a panicked rescue mission.
The unforgiving weight of fast-moving water pinned the doors of the truck shut. Leg-deep in the dangerous flood, the group tried desperately to find a way through, their panic rising when they realized there were babies trapped inside.
"I just told them to get my babies I'll find a way out," Emily told USA Today.
Several minutes into the rescue attempt, one man miraculously pulled the lifeless, infant boy, from the car.
"He's suffocated!" a rescuer is heard yelling in the video.
Seconds later, another rescuer followed behind with the 2-year-old girl still in her car seat.
"You have no idea how good it feels to know that people were there to help her, that they risked their lives jumping in to save my kids," Emily emotionally told Inside Edition.
Escaped but not breathing
The babies were out of the wreckage, but the deadly urgency wasn't over yet. Mitchell told WFAA-TV that the infant was limp and turning "bluish-gray."
Mitchell put his phone in his pocket as the babies were brought to him, but the dark video still captured the sounds of him administering frantic CPR. Mitchell, along with Jaime Martinez, a former firefighter in Guatemala, tried for several minutes to bring the kids back to life.
"Dear Jesus, please let this baby breathe," a woman prayed repeatedly in the background. Mitchell said he felt a response from the baby after the first prayer.
After a painstaking length of time, Mitchell announced, "she is breathing!"
Recovering after the miracle rescue
The worst was over. The Ocheltree's babies miraculously lived after fighting for their lives.
They were both taken to the hospital and shortly after, Marshal, the baby boy, was released. Phillip Ocheltree used social media to keep both loved ones and strangers interested in their story updated on his daughter's longer recovery.
Soon, their daughter, Addy, also made a full recovery. Phillip posted a live video to his Facebook page of the toddler walking out of the hospital looking healthy and cute as a button. In his post, Phillip thanked everyone for all they did for his family and the impact their prayers made on their lives.
The Ocheltrees are now home and doing well, thanks to the bravery and kindness of a group of strangers. Their story is a modern-day good Samaritan miracle.