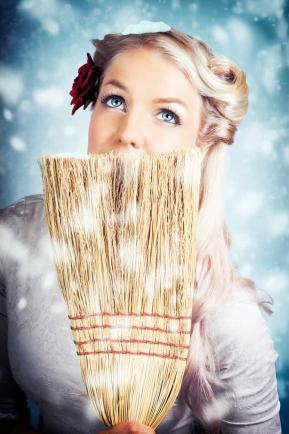 What if you could take a normal day and turn it into something magical without leaving the comfort of home? You can! Delight your children with a surprise and turn the mundane into excitement and the mediocre into fancy. With some simple ideas, you can create memories for your family that will be unforgettable.
It's time to dress-up!
Grab your old prom dress or any other fancy outfits and have everyone dress to the nines. Heels, fancy make-up, long dresses or even superhero costumes will do the trick. You can create a story line to fit what needs to be accomplished or just turn your everyday tasks into fancy jobs instead. Vacuuming, mopping or picking up toys is more fun if you're playing a part. And it's always more fun while wearing a tiara or a cowboy hat!
Employ imaginations
Pretend you're like Cinderella going to the ball; Imagine superheros saving the world; or, act like dignitaries that have responsibilities to accomplish. Make sure the kids help decide the plot. Creating a story is a fun way to bond and perhaps even get a little accomplished while you're at it.
Set the mood
Adjusting the lighting, using props or adding appropriate music can add elaborately to the scene you're trying to set. You may want to tape yarn in lines that you have to carefully move around as if they are infra-red sensors and you are all spies on a mission to get all of the toys safely to the toy box (be sure to play some fun "Mission Impossible" type music for this one!). You can turn off all of the lights and use only flashlights in the evening - but, you could also block out the light coming in from windows with cardboard or blackout curtains.
Never underestimate the power of speaking in accents
Pick an accent and try to mimic it (you can find YouTube videos to help). British, Indian or Australian accents are all fun to emulate. If nothing else, it will add to the fun and giggling as you go throughout the otherwise ordinary day. You could also play around with singing everything you say as if you're in your own musical or opera.
Meal times are fancy and a good way to teach etiquette
Wipe the dust off of your rarely used China or special dishes and use them while teaching proper manners to your children. Have your children help set the table like an expensive restaurant. Even if you serve the vegetables as a starting dish, then macaroni and cheese and finally, a cookie for dessert, do it with style! Serve juice, milk or even sparkling cider in a beautiful stemmed glass. And, don't forget the napkin on the lap. For added flare, turn down the lights and eat by candlelight.
End the evening with a dance
Turn on some ballroom or other dance music and teach your princesses, superheroes, cowboys and spies how to move to the music. Whether you want to teach a couples waltz, line dancing or how to freestyle to the upbeat rhythms, this can be fun for everyone. Being dressed up just adds to the excitement.
Make the mundane magical with a little creativity and not much preparation. Kids of all ages can enjoy this family activity. Boring jobs can be fun with the use of imagination. The time spent together will be special and certainly memorable and maybe even become one of your family traditions.