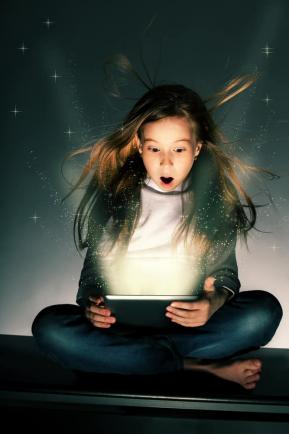 With great power comes great responsibility, is the mantra of Marvel comics' Amazing Spiderman. Modern technology has put a lot of power in the palm of our hand. Sexting, cyber bullying, online gambling, violent video games and porn have given our favorite gadgets a bad rap. We don't, however, need to disconnect all together. It's up to us how we use the power of technology. Here are 10 responsible ways to use electronics to make family life better.
1. Research
Finally, an answer to the endless "why" questions your child throws at you. A quick internet search will yield the most up-to-date information on any topic child or parent is interested. No more combing through outdated encyclopedias at the library, school projects will be done in a flash, as well. However, use caution when using information from the internet. Look for reputable sources. University research sites, news organizations and well-controlled and documented information sources like Wikipedia are your best bet.
2. Keep in touch with old friends
Ease the pain of moving your kids to a new city or school. They can keep in touch with their old friends through email, texting, Skype and social media. Just be sure your children understand that anything they put out into the cyber world will be around for a long, long time and may be seen by people other than who it was intended.
For parents, it's easy to track down old high school friends and college roomies, most have already friended them on social media. Plan a reunion and book everything online. Friend your spouse and make sure they know all your passwords. Don't let social media relationships get in the way of your marriage relationship.
3. Keep tabs on family
Do the grandkids live halfway across the country? No problem. You can video chat with them on birthdays or weekends and see their dance performances and soccer games the same day through emailed videos and photos.
Cell phones also make it easier for parents to keep track of teens. Teens can check in with a phone call or text and can easily contact their parents when problems arise.
4. Promote a cause
Whether it's a personal crusade or a large charity, it's easy to set up a web page, promote and accept donations for your cause online. Social media postings can bring attention to a social problem. Entrepreneurs and creative types can raise funds for projects on sites like Kickstarter.com.
5. Get a pick-me-up
The Internet is full of videos that can provide inspiration, or a laugh on demand. You can sign up to get inspirational quotes and videos sent directly to your email. You can subscribe to YouTube channels for a good laugh and browse SoulPancake for thoughtful original programming like My Last Days, a program about meaningful ways people move toward the end of their lives.
6. Family history
Genealogy is one of the fastest growing hobbies in the world. Sites like ancestry.com, genealogy.com and uswebgen.org make it easier to find your ancestors and connect with distant relatives around the world.
7. Make a living
Telecommuting or working from home means more family time. Many companies are starting to provide this money-saving option. It cuts the overhead costs of providing employees with a physical work space and allows the employees to cut out a time and gas guzzling commute.
8. Shop
Online shopping means no more hunting around for a store that still has the "it" toy on the shelf. You can even pre-order books and video games, and they will be shipped to you at the same time they hit the shelves. Online clothes shopping also eases frustrations for people with special size needs. You can pick the color and size you want instead of putting up with the limited selection of special sizes in most stores.
9. Get ideas
Parents, teachers and youth group leaders no longer have to hold onto old magazine clippings or rack their brains for fun educational ideas. Sites like Pinterest and blogs on any interest you can think of help you find ideas and store them easily on your hard drive or in the cloud.
The myriad of cooking sites and blogs can also help answer the age-old question, what's for dinner?
10. DIY
Being handy around the house has never been easier. From unclogging your drain to building your own deck, you can find instructions and helpful videos on the Web.
The DIY movement is not limited to home improvement. By using YouTube tutorials, you can braid your daughter's hair, make your own clothes and even help kids with their homework.
Navigating our connected world can be intimidating, but there are many good things your family can do with technology. Set some ground rules and use it responsibly.