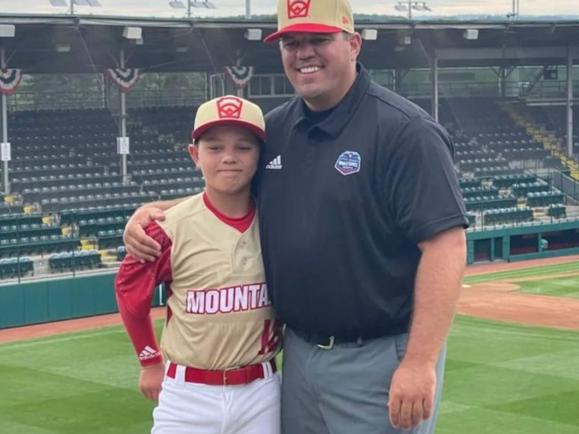 A Little League World Series player from Utah is in a medically induced coma after falling off his bunk bed in Williamsport, Pennsylvania, where the competition is being held.
Easton Oliverson of the Snow Canyon team in Santa Clara sustained a skull fracture after falling from the bed Sunday night, when he was rushed into emergency surgery, according to KSTU-TV.
The 12-year-old athlete's uncle, Spencer Beck, told TMZ Sports the family is optimistic about Oliverson's recovery, describing the Little Leaguer as "very loving" and "a really good kid."
"We're all praying for him," he said.
Oliverson's story spread quickly on the internet as social media users voiced their support and prayers for the little boy. Even the lead singer for the rock band Poison, Bret Michaels, weighed in on the incident.
"As a father, a baseball fanatic [and] a human — our thoughts [and] prayers are with Easton Oliverson, his family, friends [and] teammates," wrote the singer.
As a father, a baseball fanatic & a human - our thoughts & prayers are with Easton Oliverson, his family, friends & teammates. @LittleLeague #LLWS #SnowCanyon #Tank

— Bret Michaels (@bretmichaels) August 16, 2022
Utah Gov. Spencer Cox (R) added, "Our prayers are with this player, family, and team today."
Describing the night of the tragic incident, Beck said one of nephew's teammates quickly called for help from nearby adults after Oliverson's fall from bed woke him up.
"Had that other player not been wakened by him falling, he may not have made it," Beck told the Salt Lake Tribune, adding in his statement to KSTU-TV that community members' prayers have played a significant role in Oliverson's ongoing recovery.
"We're very hopeful and he's doing very well in the fight to get better, but the community and the prayers and the support that we've received is unbelievable," said Beck. "But he's fighting the fight right now and it's just a shock today to us and it's been really tough."
It should be noted, too, that one of the team's coaches is Oliverson's father.
The Snow Canyon team is still slated to play its first Little League World Series game Friday. Oliverson's dad said he wants the competition to move forward as planned.
"While our hearts are heavy," the team said in a statement, "we are committed as a team to have an opportunity to take part in something that is only dreamt about by others."
Snow Canyon is the first team from Utah to qualify for the competition.
Beck, for his part, said, "As hard as it will be to not have Easton out there playing, they're still from this community, this is still a historical moment for the state, for Little League, and for our community. We're cheering them on, and maybe they'll have a little inspiration from Easton and they'll go win it all. That would be awesome."
Please continue to pray for Oliverson's full recovery.
This article originally appeared on Faithwire.com.
UPDATE: As of Wednesday, Easton is no longer under sedation and is awake! His family announced that he had been moved out of the intensive care unit and has been sitting up, able to feed himself and even took two steps with support. His family has continuously expressed their gratitude towards the Pennsylvania medical professionals helping Easton, and to the people around the nation offering their support and prayers. His family says there is a long road to recovery, but they are so relieved that Easton has been improving each day.