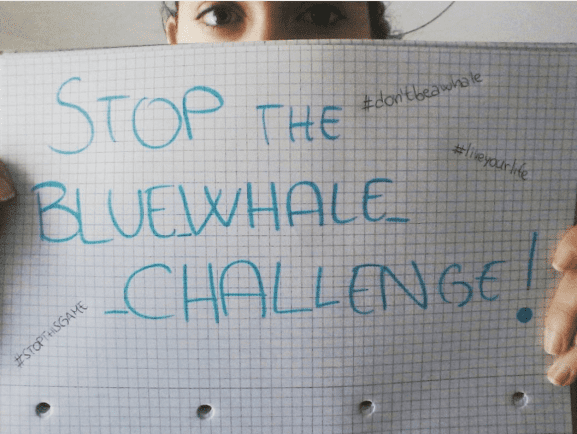 The Blue Whale Challenge might sound like just another popular social media trend, but it actually entails very dark and life-threatening challenges that everyone (especially parents) should be aware of.
What is the Blue Whale Challenge?
The Blue Whale Challenge gives kids a series of daily tasks, forming a 50-day dark and twisted game. The challenges range from watching a scary movie alone to self-mutilation. The last day's challenge is to commit suicide.
This isn't the popular ice bucket challenge or trendy, yet still dangerous, cinnamon challenge - this challenge is a serious call for help. It's dangerous, deadly and a symptom that a person is contemplating or even planning suicide.
Social media and teen suicide
The challenge has already been linked to 130 teenage deaths in Russia and many more across the world, including one Irish father who recently suffered the death of his son.
After finding his son's body in a field near his home on May 11, Greg Wilmot searched the internet and believes the Blue Whale Challenge was a large factor in the death of his son.
"Parents nowadays do not realise how much their children are into the world of virtual reality where, to them, everything is reality," Wilmot said. "They find it hard to discern between the two and I don't see how we are going to tackle this as a major problem. Any nutcase can post terrible things on social media."
Spreading the word through social media
Part of the game is to post each day's task to social media. But social media has also been a tool to fight against the disturbing game. Since word spread about the Blue Whale Challenge, many people have taken to social media to warn others about the challenge and about suicide in general.
Even Instagram has changed its own settings to offer help for those searching the hashtag #bluewhalechallenge.
The origin of "Blue Whale"
The challenge's name comes from the Russian words, baleia azul, which stems from a song by the Russian rock band Lumen. Its opening lines are, "Why scream / When no one hears / What we're talking about?" and it features a "huge blue whale" that "can't break through the net."
Noticing suicidal signs in your own kids
One of the biggest parenting challenges is feeling unsure of what your kids are thinking about or going through. The internet and social media opens up new ways for parents to watch out for suicidal signs in their own children.
International internet safety expert Dr Rachel O'Connell said, "Parents should ... try to encourage conversations about what sites and apps their children access and who they're connecting with. This dialogue is essential to keeping our kids safe online."
According to the Society for the Prevention of Teen Suicide, the warning signs of a kid or teen contemplating self harm or suicide include:
Expressing hopelessness about the future

Displaying overwhelming distress

Marked changes in behavior, including in social and emotional behavior

Talking about suicide or self harm (even jokingly)

Experiencing stressful situations, such as loss, unwelcome change or personal humiliation
Talk with your kids about suicide
Teen suicide has been a hot topic lately thanks to the popularity of a new Netflix show, 13 Reasons Why. Its unflinching message about teen suicide and bullying has sparked growing controversy, but nonetheless it's brought the important topic into the spotlight and given parents the opportunity to discuss suicide with their children.
Every parent would like to believe that their own child would never be one of the 121 U.S. suicides per day. But disturbingly, national surveys tell us that 17 percent of high school students admit to thinking about suicide and almost 8 percent acknowledge actually making an attempt. The unfortunate truth is that even if your child does not fall into these statistics themselves, some of their peers or even friends are sure to.
As a parent, you can love, support and actually talk to you own kids about this serious and relevant issue. A good discussion that tackles the topic head-on might be just what they need - for current or future circumstances.