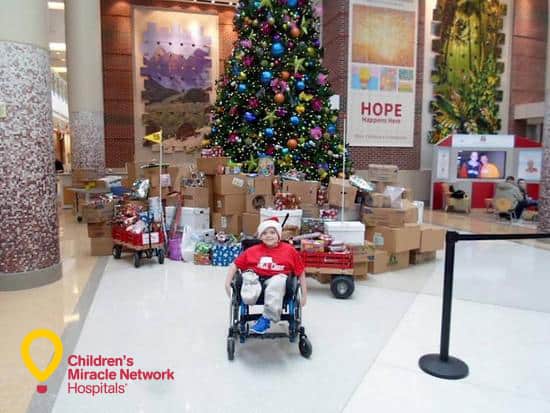 When most people think of Christmas, they think of Christmas trees, shopping trips to the mall, family time at home, and lots of holiday food. But for thousands of children across the nation, Christmas means just another day in a hospital bed without the luxury of sleeping in their own beds or enjoying the excitement of seeing what Santa brought them on Christmas morning.
That's something spina bifida survivor B.J. Yoho, or as many know him, B.J. "Claus," has set out to change. He knows a little about what it's like to live in the hospital — at only 24 hours old he experienced his first surgery. Now, at age 11, he has undergone nearly twenty surgeries, one of which included the amputation of his right leg. Despite being confined to a wheelchair and facing many physical challenges on a daily basis, B.J. Yoho is still one of the most generous kids you will ever meet.
For six years now, B.J. has chosen to give back to his community by dedicating the holiday season to promoting a toy drive for the children at Riley Hospital for Children at Indiana University Health. Because of B.J.'s vision, local schools, businesses, and community members work together to donate toys, time, and money to make the holidays a little brighter for the kids at Riley Hospital.
"It makes me feel very happy and special that I'm able to cheer up another child," said BJ in an interview with Greene County Daily World. "I know what it is like and what they are going through when they are faced with sickness. Riley Children's Hospital has been my second home ... all of the doctors and nurses have been so nice to me. They have helped me not feel scared when I'm at my appointments. They have helped give me hope. I am so glad that I can help try to give back to them by doing my toy drive."
In 2011, he set his first record by collecting 640 toys for the children at the hospital. This year, he collected more than 4,000.
B.J.'s mother remains in awe of his constantly positive attitude and his drive to be a force for good in the world. "Despite his challenges, BJ never loses his permanent smile and desire to serve others," she said. "He's had some major operations in the last 10 years, but always at the end of the day, he's got a smile on his face. I think that is what keeps him going."
B.J. has big plans for the future, hoping one day to collect more than a million toys for children's hospitals. His only regret, he says, is that he can't deliver the presents to every child himself.
_Children's Miracle Network Hospitals provide hope to kids everywhere. Consider dontaing—even $5—to help kids like BJ find help, hope and a cure. Click here to donate: CMNHospitals.org