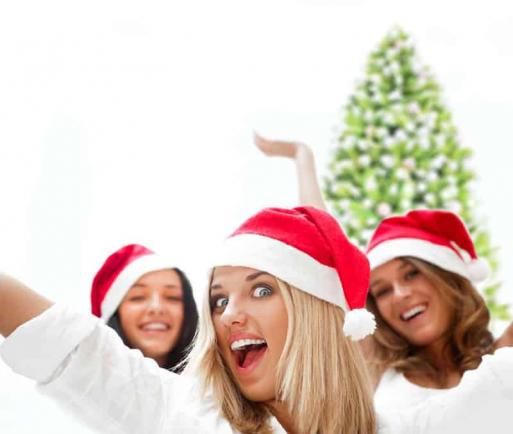 The holidays are such a magical time to celebrate life, our blessings and the gift of family and friends. While many of us enjoy visions dancing in our heads of family arriving to a perfectly choreographed holiday get-together, even the best of plans can be tested. Yes, you have made every effort to make your guests comfortable and feel welcome. But when fruitcakes collide under one roof - anything can happen.
Consider this typical guest list:
Grandma joined-at-the-hip
Togetherness is such a privilege. Yet, even something as heartwarming as being yuletide bosom buddies can reach an excess. This is the guest who won't blink an eye while requesting seating for 26 during peak hours at the local steak house.
She also demands that all family members open their gifts at the exact same time, then go around the room so everyone may announce what was just unwrapped and share one's feelings about the giver. Fortunately, a grass roots coup formed by the youngest family members rises up against this injustice and brings the oppression to a screeching halt. God bless little children.
It's too bad these united conditions don't reach our next guest.
Hey-watch-my-kids-while-I-run-errands sister-in-law
: Despite the fact this family lives 3,000 miles away, and she knows nothing about this area, she has errands to run. This guest operates with an almost chameleon-like precision that enables her to dissipate into the atmosphere, thus leaving her young children to entertain themselves; perhaps by evaluating the effects of hot wassail poured on your recently cleaned carpet.
The semi-famous blogger
She is easy to spot in a crowd. She is the one taking a "selfie" while grandchildren act out the nativity story in front of the Christmas tree. Can't remember if you added cayenne pepper to the sausage gravy? Just refer to her Facebook page. She's posted photos of all of the food prep with clever headings.
"Where's the TV? The game's on." That must mean Uncle Carl, our family sports nut, is here for an extended stay on my couch surrounded by packages of turkey jerky and orange soda. Now, I dare say I follow sports rather closely. It's a by-product of being the only female in the house. So, when Uncle Carl arrives on a Wednesday at 10 a.m., I'm not sure to what game he is referring with such urgency.
"Malaysia is broadcasting the World Cup-Stacking Tournament."
Well, of course.
"You have ESPN 4, don't you?"
The human calculator
"Woo wee! That's a nice tree. How much did that cost you?"
Yes, Cousin Reggie is here with his mental calculator in tow to nickel and dime us into the new year. I shouldn't complain. He just wants to be sure we got a good deal. Of course, according to him the only one who actually GETS the good deal is himself.
"Look at that TV. How much did it cost you?"
"It was free, Cousin Reggie."
"Well, I could have gotten that for 20 dollars cheaper."
If you spy packages wrapped with hand painted organic paper and origami bows, then you know Aunt Pinterest-and-Etsy-are-my-life is here for the holidays. She also just whipped up a 6-foot gluten-free gingerbread house equipped with candy windows and a fully functioning elevator in her spare time between homeschooling her eight children and travelling overseas to donate crocheted blankets to local villages.
But, don't knock it. She crocheted cup holders for every member of the family for Christmas. Honestly, I have yet to find something that keeps my soda colder longer.
Despite it all, we are happy they are here, aren't we. Yes, at times it's hard to find room in your heart and your home for such a variety of contrasting personalities. However, this is the best time of year to sit back with your crocheted cup holder and reflect on the blessings of life and the people who share this life experience with you. Besides, who knew cup-stacking made such great television?